Rock
Un article de Wikipédia, l'encyclopédie libre. Aerosmith est un groupe de rock américain formé en 1970 à Boston , parfois appelée "Les Bad Boys de Boston" [ 4 ] . Leur style, qui est enracinée dans le blues à basé le hard rock [ 5 ] , [ 6 ] , en est venu à également intégrer des éléments de pop [ 7 ] , de metal [ 5 ] et de rhythm and blues [ 8 ] , et a inspiré de nombreux artistes de rock et de metal ultérieurs. Aerosmith est l'un des groupes de rock qui ont connu le plus de succès, avec 150 millions d' albums vendus dans le monde, dont 67 millions rien qu'aux États-Unis . Ils détiennent le record du plus grand nombre de disques d'or et multi-platine pour un groupe américain. Ils ont placé 21 hits au Top 40 dans le Billboard Hot 100 et 9 hits n o 1 au Mainstream Rock .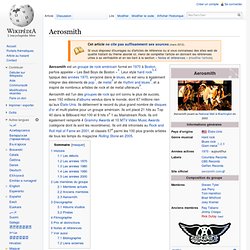 Aerosmith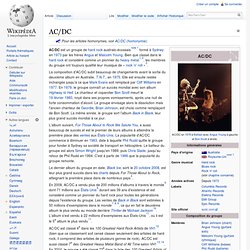 Un article de Wikipédia, l'encyclopédie libre. AC/DC est un groupe de rock australo - britannique [ note 1 ] formé à Sydney en 1973 par les frères Angus et Malcolm Young . Bien que classé dans le hard rock et considéré comme un pionnier du heavy metal [ 1 ] , [ 2 ] , les membres du groupe ont toujours qualifié leur musique de « rock 'n' roll » [ 3 ] . La composition d'AC/DC subit beaucoup de changements avant la sortie du deuxième album en Australie, T.N.T. , en 1975 . Elle est ensuite restée inchangée jusqu'à ce que Mark Evans soit remplacé par Cliff Williams en 1977 .
AC/DC - Thunderstruck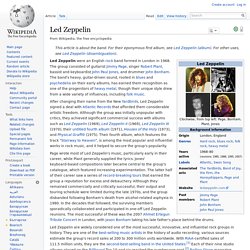 Led Zeppelin were an English rock band formed as The New Yardbirds in London in 1968. The band consisted of guitarist Jimmy Page , singer Robert Plant , bassist/keyboardist John Paul Jones , and drummer John Bonham . They are widely considered to be one of the most successful, innovative and influential rock groups in history. Due to the heavy, guitar-driven blues rock sound of their first two albums, Led Zeppelin are frequently recognised as one of the progenitors of heavy metal . After changing their name from the New Yardbirds to Led Zeppelin, they signed a favourable deal with Atlantic Records that allowed them considerable artistic freedom. With albums Led Zeppelin , Led Zeppelin II , Led Zeppelin III , Led Zeppelin IV , Houses of the Holy , and Physical Graffiti , the band achieved significant commerical impact.
Blues Rock, Boogie Rock, Rock Sudiste
Folk Rock, Country Rock, Blues Rock