Java - spring
By Viral Patel on November 11, 2010 Almost all the user interfaces that I have created had this functionality of selecting multiple items from a list to process them or delete them. Although its very very easy to implement this functionality in Javascript, using jQuery for this is real fun. I will show you a simple implementation of adding multiple checkbox select and deselect functionality to any webpage. We will have a table with some data in it and checkbox in each row.
Multiple Checkbox Select/Deselect using jQuery – Tutorial with Example | ViralPatel.net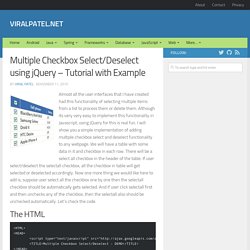 Browse Category Hibernate - flazx community
Browse Category Spring - flazx community
The Spring Framework - Reference Documentation
Professional Java Development with the Spring Framework - flazx community
Python Paste — Paste v1.7.5.1 documentation
Problem with getAsText not called with CustomDateEditor
Hello Friends, does anybody has working solution for date format problem. i have date field which iam binding thru CustomDateEditor, it works fine, binds fine when i navigate thru pages(Iam using AWF Controller) but when i click submit button which is _finish when my jsp view displayed back dateformat got messed up ex:- originally 16-JUL-2006 after redisplayd same view date changed to Sun Jul 16 00:00:00 EDT 2006 i saw so many people complained about same problem but didn't see any solution to it, please some one help me is there is any way to over come this problem.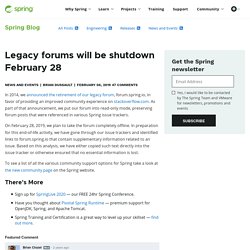 anybody has working solution to date(fmt changing after redisplay same view) binding [Archive] - Spring Community Forums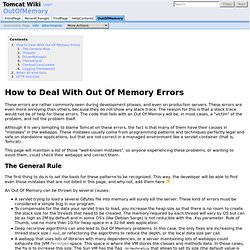 These errors are rather commonly seen during development phases, and even on production servers. These errors are even more annoying than others, because they do not show any stack trace. The reason for this is that a stack trace would not be of help for these errors. The code that fails with an Out Of Memory will be, in most cases, a "victim" of the problem, and not the problem itself. Although it is very tempting to blame Tomcat on these errors, the fact is that many of them have their causes in "mistakes" in the webapps.
OutOfMemory - Tomcat Wiki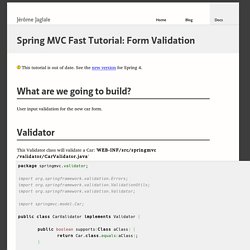 Hi, if somebody types string in the field, you will receive exception ( Somebody knows how to handle the Exception if you put a String in the Price Field? the exceptions is shown in the <form:errors :(
Spring MVC Fast Tutorial: Form Validation