Navigation
Eve Strategic Maps | Order via Eve-Online Store
Data Refreshed: Alliance Members & Sovereighty 19/03/2009 . Outposts 19/03/2009 . Copyright Notice EVE Strategic Maps, Outpost Alert! and www.eve-maps.com website are copyright © 2004-2008 Shayne Smart, All Rights Reserved. EVE Online, the EVE logo, EVE and all associated logos and designs are the intellectual property of CCP hf.
This page uses vector based maps (SVG for for Firefox/Safari/Chrome and VML for Internet Explorer) to display the maps. All maps are available as PDF Download (Print!) and as GIF Image. Sovereignty and occupancy data gets constantly updated.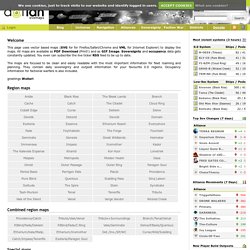 Jumpplanner
Ranges updated for Black Ops ships (both Jumpplanner and Jumprange tools). Thank you for your support! If you have any questions or issues with my tools you can send me an e-mail at elissen@eve-icsc.com. You can help me paying for the server by buying your Game Time Codes at Shattered Crystal or by making a donation.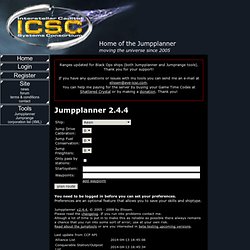 Jumpplanner 2.4.3 - ICSC