Rww
Adrian Cockcroft, a cloud architect at Netflix, is running a series of posts looking at how different NoSQL databases handle common cloud computing tasks. All the usual disclaimers apply: SQL is good for some things, and different scenarios call for different NoSQL solutions.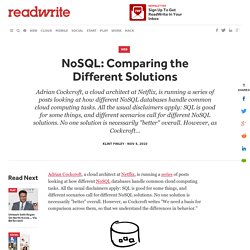 NoSQL: Comparing the Different Solutions - ReadWriteCloud
Facebook & The Semantic Web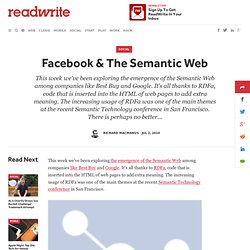 This week we've been exploring the emergence of the Semantic Web among companies like Best Buy and Google. It's all thanks to RDFa, code that is inserted into the HTML of web pages to add extra meaning. The increasing usage of RDFa was one of the main themes at the recent Semantic Technology conference in San Francisco.
Every year ReadWriteWeb selects the top 10 products or developments across a range of categories. We kick off the 2010 'Best Of' series with our selection of the top 10 Semantic Web products and implementations of the year.
Top 10 Semantic Web Products of 2010
Secrets of the LinkedIn Data Scientists
I suffer from severe data envy when it comes to LinkedIn. They have detailed information on millions of people who are motivated to keep their profiles up-to-date, collect a rich network of connections and have a strong desire from their users for more tools to help them in their professional lives.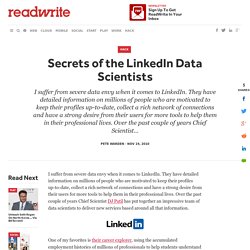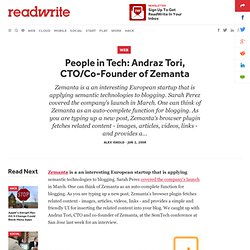 People in Tech: Andraz Tori, CTO/Co-Founder of Zemanta
Zemanta is a an interesting European startup that is applying semantic technologies to blogging.
In May last year we wrote about the state of Linked Data, an official W3C project that aims to connect separate data sets on the Web.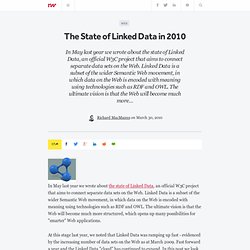 The State of Linked Data in 2010
What Happens When You Deactivate Your Facebook Account
Facebook is a big part of millions and millions of peoples' lives, but what happens when you pull the plug? Last night I met a man who walked to the edge of the cliff and nearly deactivated his Facebook account.
Top 10 Mobile Trends of 2010, Part 1: Design & Development
In a little under 3 weeks time, we will host our second unconference: the ReadWriteWeb Mobile Summit. It's a 1-day event at the lovely Computer History Museum, in Mountain View, California. In preparation for the RWW Mobile Summit, we're going to outline the 10 leading trends of the Mobile Web in a 3-part series of posts. We'll delve more into these trends with you at the Summit, because our unconferences are all about audience participation.