Rww
NoSQL: Comparing the Different Solutions - ReadWriteCloud. Adrian Cockcroft, a cloud architect at Netflix, is running a series of posts looking at how different NoSQL databases handle common cloud computing tasks.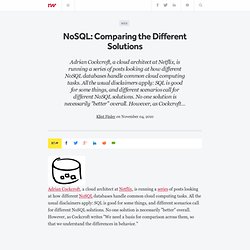 All the usual disclaimers apply: SQL is good for some things, and different scenarios call for different NoSQL solutions. No one solution is necessarily "better" overall. Facebook & The Semantic Web. This week we've been exploring the emergence of the Semantic Web among companies like Best Buy and Google.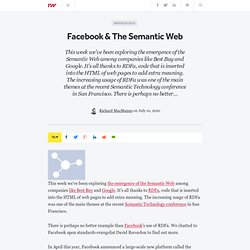 It's all thanks to RDFa, code that is inserted into the HTML of web pages to add extra meaning. The increasing usage of RDFa was one of the main themes at the recent Semantic Technology conference in San Francisco. There is perhaps no better example than Facebook's use of RDFa. We chatted to Facebook open standards evangelist David Recordon to find out more. In April this year, Facebook announced a large-scale new platform called the Open Graph.
Top 10 Semantic Web Products of 2010. Every year ReadWriteWeb selects the top 10 products or developments across a range of categories.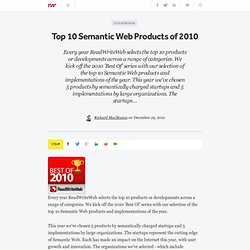 We kick off the 2010 'Best Of' series with our selection of the top 10 Semantic Web products and implementations of the year. This year we've chosen 5 products by semantically charged startups and 5 implementations by large organizations. The startups represent the cutting edge of Semantic Web. Each has made an impact on the Internet this year, with user growth and innovation. Secrets of the LinkedIn Data Scientists. I suffer from severe data envy when it comes to LinkedIn.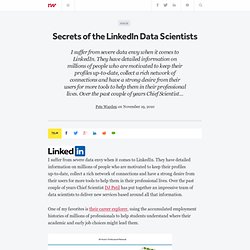 They have detailed information on millions of people who are motivated to keep their profiles up-to-date, collect a rich network of connections and have a strong desire from their users for more tools to help them in their professional lives. Over the past couple of years Chief Scientist DJ Patil has put together an impressive team of data scientists to deliver new services based around all that information. One of my favorites is their career explorer, using the accumulated employment histories of millions of professionals to help students understand where their academic and early job choices might lead them. Ali Imam's connection network, via Russell Jurney. People in Tech: Andraz Tori, CTO/Co-Founder of Zemanta. Zemanta is a an interesting European startup that is applying semantic technologies to blogging.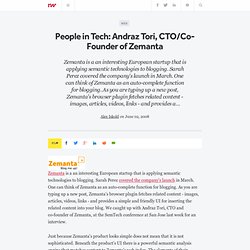 Sarah Perez covered the company's launch in March. One can think of Zemanta as an auto-complete function for blogging. As you are typing up a new post, Zemanta's browser plugin fetches related content - images, articles, videos, links - and provides a simple and friendly UI for inserting the related content into your blog. We caught up with Andraz Tori, CTO and co-founder of Zemanta, at the SemTech conference at San Jose last week for an interview. Just because Zemanta's product looks simple does not mean that it is not sophisticated. The State of Linked Data in 2010.
In May last year we wrote about the state of Linked Data, an official W3C project that aims to connect separate data sets on the Web.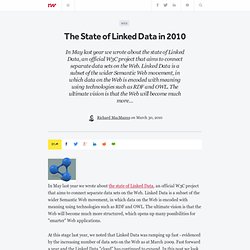 Linked Data is a subset of the wider Semantic Web movement, in which data on the Web is encoded with meaning using technologies such as RDF and OWL. The ultimate vision is that the Web will become much more structured, which opens up many possibilities for "smarter" Web applications. At this stage last year, we noted that Linked Data was ramping up fast - evidenced by the increasing number of data sets on the Web as at March 2009. Fast forward a year and the Linked Data "cloud" has continued to expand. What Happens When You Deactivate Your Facebook Account.
Facebook is a big part of millions and millions of peoples' lives, but what happens when you pull the plug?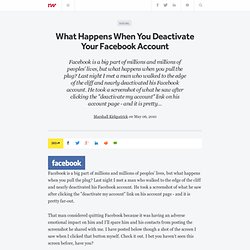 Last night I met a man who walked to the edge of the cliff and nearly deactivated his Facebook account. He took a screenshot of what he saw after clicking the "deactivate my account" link on his account page - and it is pretty far-out. Top 10 Mobile Trends of 2010, Part 1: Design & Development. In a little under 3 weeks time, we will host our second unconference: the ReadWriteWeb Mobile Summit.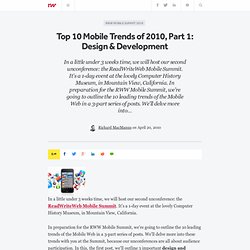 It's a 1-day event at the lovely Computer History Museum, in Mountain View, California. In preparation for the RWW Mobile Summit, we're going to outline the 10 leading trends of the Mobile Web in a 3-part series of posts. We'll delve more into these trends with you at the Summit, because our unconferences are all about audience participation. In this, the first post, we'll outline 3 important design and development issues for the Mobile Web. Register now to discuss these and other topics at our unconference.
---