ARQ E DEC
This is What Happens When You Give Thousands of Stickers to Thousands of Kids. This December, in a surprisingly simple yet ridiculously amazing installation for the Queensland Gallery of Modern Ar, artist Yayoi Kusama constructed a large domestic environment, painting every wall, chair, table, piano, and household decoration a brilliant white, effectively serving as a giant white canvas.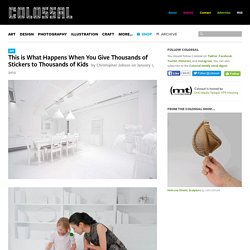 Over the course of two weeks, the museum's smallest visitors were given thousands upon thousands of colored dot stickers and were invited to collaborate in the transformation of the space, turning the house into a vibrantly mottled explosion of color. How great is this? Given the opportunity my son could probably cover the entire piano alone in about fifteen minutes. Old Garage turned Mini Dream Home! | Hello there!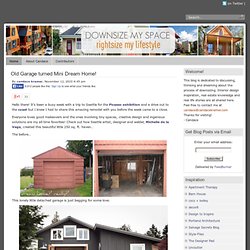 It's been a busy week with a trip to Seattle for the Picasso exhibition and a drive out to the coast but I knew I had to share this amazing remodel with you before the week came to a close. Everyone loves good makeovers and the ones involving tiny spaces, creative design and ingenious solutions are my all time favorites! Singita, Luxury African Game Reserve. Singita, Luxury African Game Reserve Singita, meaning place of miracles, is a group of world-renowned games reserves in Africa which provide a positive balance of hospitality, conservation and community for all of their guests.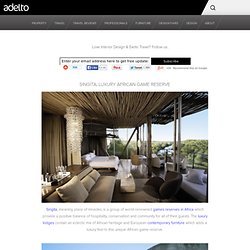 The luxury lodges contain an eclectic mix of African heritage and European contemporary furniture which adds a luxury feel to this unique African game reserve. About Richard Barker. Casas amazonian jungle house - San Diego interior decorating. Carved out of the Brazilian amazonian jungle of Iporanga, SP, Brazil, this beautiful tropical house was designed by Architect Arthur Casas as his own dream house.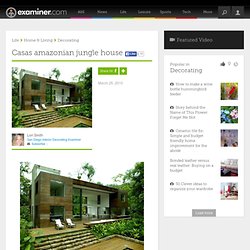 "I always wanted a house in the middle of the forest, in a place where I could recharge the energies", says Arthur. In the form of two large symmetrical cubes embracing an open space, the aim was to have the interiors in total synergy with the exteriors. Bringing the outside in are 11 meter floor to ceiling glass windows, on both ends of the open central space. Homepage - Traditional Home®
Peppermintbliss. Green. Solar Insect Zappers With the start of spring comes the rise of annoying pests.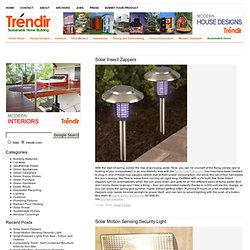 Now, you can rid yourself of the flying variety (we're looking at you, mosquitoes!) In an eco-friendly way with the Solar Insect Zappers. You may have been hesitant to plug in one of these bug zappers before due to their power consumption, but since this set of four harnesses the sun's energy, feel free to leave them running all night long. Modular chair. Resource Furniture: Italian-Designed Space Saving Furniture.
---