Trends
EMA Advisory Note: Top 10 Trends in Business Intelligence and Analytics for 2012. Welcome to Forbes. The 6 Verbs For The Next 20 Years Of The Connected World. Today at the Web 2.0 Expo in San Francisco, Wired co-founder Kevin Kelly gave the first keynote of the day.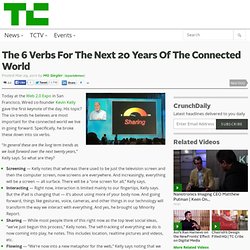 His topic? The six trends he believes are most important for the connected world we live in going forward. Specifically, he broke these down into six verbs. New Rules for the New Internet Bubble ? Steve Blank. Carpe Diem We're now in the second Internet bubble.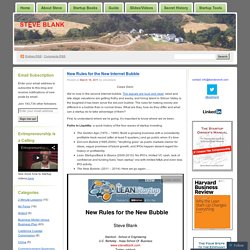 The signals are loud and clear: seed and late stage valuations are getting frothy and wacky, and hiring talent in Silicon Valley is the toughest it has been since the dot.com bubble. The rules for making money are different in a bubble than in normal times. What are they, how do they differ and what can a startup do to take advantage of them? First, to understand where we're going, it's important to know where we've been.
5 Fresh Digital Media Trends to Watch. Digital media, as many a Mashable reader is aware, is evolving at a rapid pace.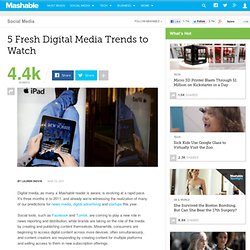 It's three months in to 2011, and already we're witnessing the realization of many of our predictions for news media, digital advertising and startups this year. Social tools, such as Facebook and Tumblr, are coming to play a new role in news reporting and distribution, while brands are taking on the role of the media by creating and publishing content themselves. Meanwhile, consumers are beginning to access digital content across more devices, often simultaneously, and content creators are responding by creating content for multiple platforms and selling access to them in new subscription offerings. Those are just a few of the trends we're observing across digital media, which we explore in greater depth below. 1.
Wikinomics
---