Linux
Home - Free Boot Manager with lot of features like USB, CDROM, partition hiding and much more. Plop Linux boot from CD, USB PXE Network and much more
The Raspberry Pi Launch
Welcome to the Linuceum!
The 20th Anniversary of Linux
Objectives: The h-node project aims at the construction of a hardware database in order to identify what devices work with a fully free operating system . The h-node.org website is structured like a wiki in which all the users can modify or insert new contents. The h-node project is developed in collaboration and as an activity of the FSF .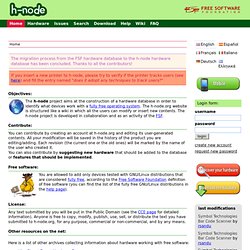 home - h-node.com
Home | Southeast LinuxFest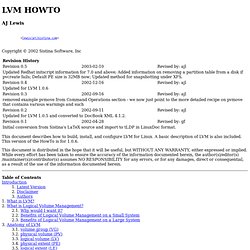 Logical volume management provides a higher-level view of the disk storage on a computer system than the traditional view of disks and partitions. This gives the system administrator much more flexibility in allocating storage to applications and users. Storage volumes created under the control of the logical volume manager can be resized and moved around almost at will, although this may need some upgrading of file system tools.
LVM HOWTO
Update: A new, up-to-date collection is available . Please take a look! It's been approximately two years since I've written the first article, A (cool) list of Linux tools .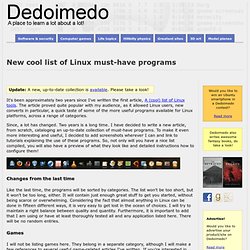 Learn UNIX in 10 minutes
Learn UNIX in 10 minutes. Version 1.3 Preface This is something that I had given out to students (CAD user training) in years past. The purpose was to have on one page the basics commands for getting started using the UNIX shell (so that they didn't call me asking what to do the first time someone gave them a tape).
Terminal commands
Respuestas a tus preguntas sobre GNU/Linux al instante
OSResources - Unix, Linux and BSD Guides - powered by phpMyFAQ 2.0.7
Linux Freedom - Complete Computer Freedom
Linux, Open Source, Gadgets, and all things Digital - TechSource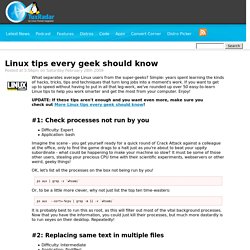 Linux tips every geek should know
What separates average Linux users from the super-geeks? Simple: years spent learning the kinds of hacks, tricks, tips and techniques that turn long jobs into a moment's work. If you want to get up to speed without having to put in all that leg-work, we've rounded up over 50 easy-to-learn Linux tips to help you work smarter and get the most from your computer. Enjoy! UPDATE: If these tips aren't enough and you want even more, make sure you check out More Linux tips every geek should know !
Linux Command Line | Basic, Advanced, Useful commands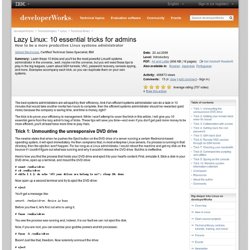 Lazy Linux: 10 essential tricks for admins
The best systems administrators are set apart by their efficiency. And if an efficient systems administrator can do a task in 10 minutes that would take another mortal two hours to complete, then the efficient systems administrator should be rewarded (paid more) because the company is saving time, and time is money, right? The trick is to prove your efficiency to management.