Education & Learning
Get flash to fully experience Pearltrees
And check out the classroom. Does Junior's learning style match the new teacher's approach? Or the school's philosophy? Maybe the child isn't "a good fit" for the school. Such theories have developed in part because of sketchy education research that doesn't offer clear guidance. Student traits and teaching styles surely interact; so do personalities and at-home rules.
Whether you're a student looking for supplemental learning or you're in the workforce but thirsty for knowledge, you don't have to drop thousands of dollars in tuition to enjoy a top-notch education from some of the best schools in the world. Computer photo by marcopako ; university building photo by J-a-x . While most online resources won't grant you a college degree, there's a lot more to the internet than Wikipedia when it comes to learning. Whether you learn best through video or text, want to take a year-long course or just to touch up on a few topics, there are more than a few places online that can give you the full experience.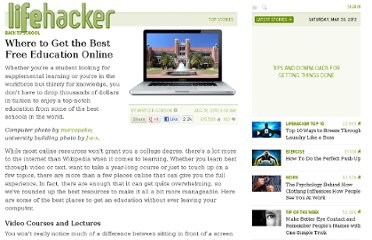 Supposedly browsing the internet requires more brain power than watching television. Although judging from some of the websites we've come across that assumption is cast into doubt.
Critical & Creative Education