Fix Yo'Self. <3
Rules. The Big Five Personality Test. Take this psychology test to find out about your personality!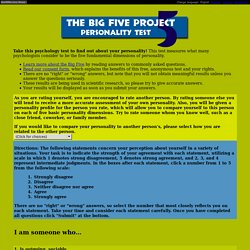 This test measures what many psychologists consider to be the five fundamental dimensions of personality. Learn more about the Big Five by reading answers to commonly asked questions.Read our consent form, which explains the benefits of this free, anonymous test and your rights.There are no "right" or "wrong" answers, but note that you will not obtain meaningful results unless you answer the questions seriously.These results are being used in scientific research, so please try to give accurate answers.Your results will be displayed as soon as you submit your answers.
This site is for educational purposes only and is not intended to be a substitute for counseling with a health care provider. Tests. How to Win Friends & Influence People by Dale Carnegie. Simplify life in 15 minutes. "In character, in manner, in style, in all things, the supreme excellence is simplicity."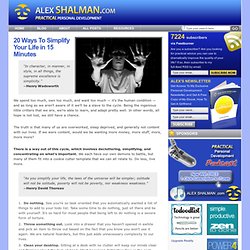 ~Henry Wadsworth We spend too much, own too much, and want too much — it's the human condition — and as long as we aren't aware of it we'll be a slave to the cycle. Being the ingenious little critters that we are, we're able to learn, and adapt pretty well. In other words, all hope is not lost, we still have a chance. The truth is that many of us are overworked, sleep deprived, and generally not content with our lives. Simple methods to overcome procrastination - Life Literacy Labs. 10 instan EmoFit tools. When things get out of control and you momentarily lose your emotional balance, there are any number of little things you can do to regain it.
Here are ten tools to help get you started. 1. Wash your hands and face and brush your teeth. It cools and cleans the parts of your body that you use most frequently, which is relaxing, and gives you that "fresh start" feeling. 2. 20 Questions You Should Ask Yourself Every Sunday. Post written by: Marc Chernoff Email At the cusp of new beginnings many of us take time to reflect on our lives by looking back over the past and ahead into the future.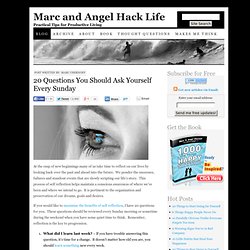 We ponder the successes, failures and standout events that are slowly scripting our life's story. 21 Day Challenge. I'm on day 14 of a 21-day challenge that I semi-invented and so far I have to admit the results have been nothing short of amazing.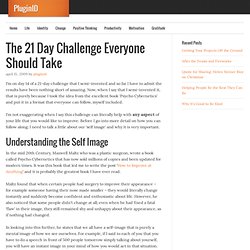 Now, when I say that I semi-invented it, that is purely because I took the idea from the excellent book 'Psycho Cybernetics' and put it in a format that everyone can follow, myself included. I'm not exaggerating when I say this challenge can literally help with any aspect of your life that you would like to improve. Before I go into more detail on how you can follow along, I need to talk a little about our 'self image' and why it is very important. Understanding the Self Image In the mid 20th Century, Maxwell Maltz who was a plastic surgeon, wrote a book called Psycho Cybernetics that has now sold millions of copies and been updated for modern times. 7 stupid thinking errors you probably make. The brain isn't a flawless piece of machinery.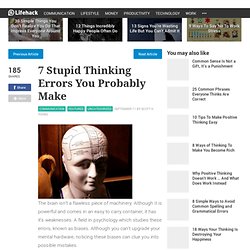 Although it is powerful and comes in an easy to carry container, it has it's weaknesses. A field in psychology which studies these errors, known as biases. Although you can't upgrade your mental hardware, noticing these biases can clue you into possible mistakes.How Bias Hurts You. 50 Life Secrets and Tips. Train yourself. Dec 27, 2010 When you have major changes going on in your life, or you're just frustrated about where you are, it's easy to get trapped in a cycle of depression, bad moods and frustration.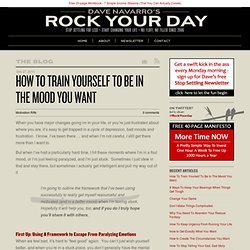 I know, I've been there … and when I'm not careful, I still get there more than I want to. But when I've had a particularly hard time, I hit these moments where I'm in a foul mood, or I'm just feeling paralyzed, and I'm just stuck. Sometimes I just stew in that and stay there, but sometimes I actually get intelligent and pull my way out of it. How To Steal Like An Artist (And 9 Other Things Nobody Told Me) - Austin Kleon.
30 Habits that Will Change your Life. Developing good habits is the basic of personal development and growth.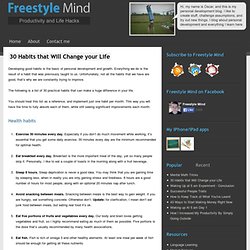 Everything we do is the result of a habit that was previously taught to us. Unfortunately, not all the habits that we have are good, that's why we are constantly trying to improve. The following is a list of 30 practical habits that can make a huge difference in your life. You should treat this list as a reference, and implement just one habit per month. The Most Productive One Hour In Your Life | LessonInLife.com. Summary – Super One Hour If you are reading this, I'm very sure that you and I have the same common goal.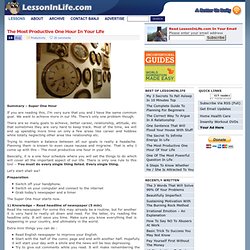 We want to achieve more in our life. There's only one problem though. There are so many goals to achieve, better career, relationship, attitude, etc that sometimes they are very hard to keep track. Most of the time, we will end up spending more time on only a few areas like career and hobbies while totally neglecting other area like relationship etc. Handbook for Life: 52 Tips for Happiness and Productivity | zen habits. By Leo Babauta This is something I've been wanting to write for some time — a Handbook for Life.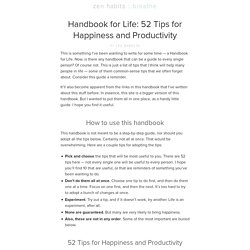 Now, is there any handbook that can be a guide to every single person? Of course not. This is just a list of tips that I think will help many people in life — some of them common-sense tips that we often forget about. How to Live With an Unknowable Mind. We know surprisingly little about our own personalities, attitudes and even self-esteem. How do we live with that? How do you imagine your own mind? I sometimes picture mine as a difficult and contrary child; the kind that throws a stone at you for no reason and can't explain itself. Or while at the beach it sits silent, looking miserable. 10 More Common Faults in Human Thought. Humans This list is a follow up to Top 10 Common Faults in Human Thought. Thanks for everyone's comments and feedback; you have inspired this second list!
It is amazing that with all these biases, people are able to actually have a rational thought every now and then. There is no end to the mistakes we make when we process information, so here are 10 more common errors to be aware of. The confirmation bias is the tendency to look for or interpret information in a way that confirms beliefs. Top 10 Thinking Traps Exposed. Our minds set up many traps for us. Unless we're aware of them, these traps can seriously hinder our ability to think rationally, leading us to bad reasoning and making stupid decisions. Features of our minds that are meant to help us may, eventually, get us into trouble. Here are the first 5 of the most harmful of these traps and how to avoid each one of them. 1.
The Anchoring Trap: Over-Relying on First Thoughts. 40 Healthy Relationship Signs. 100 Best Blogs to Help You Find Happiness Nurse Practitioner Schools. Eight Ways to Spot Emotional Manipulation. 15 Styles of Distorted Thinking. Welcome to Adobe GoLive 6. Top 10 Things That Determine Happiness. Yes! 50 Scientifically Proven Ways to Be Persuasive « alex.moskalyuk.
Self Development Tools to Follow Your Dreams. 50 Best Personal Development Books. To Let Go of Stress, Catch Your Breath: Ujayii Breathing How-To. 40 Ways to Let Go and Feel Less Pain. 60 Ways to Get Organized & Take Control of Your Life. 28 Dignified Ways to Impress Everyone Around You - StumbleUpon. 42 Practical Ways To Improve Yourself. 10 Simple Truths Smart People Forget. The Art of Meditation / Stop Being a Zombie! Need a Reboot?
---