Makeup
Classic View :: Inbox
5 Minute Make Up Routine For The Snooze Button Lover | Lipgloss Culture
How To: Apply Metallic Eye Shadow | Real Simple
Beauty, Skin Care, Makeup, Hair, &Fragrance
It´s saturday, I´m back in beautiful Monaco and life is good!
Use toothpaste on yellow nails. This usually happens when you let nail polish stay on your nails for very long and when you've used cheap nail polish. Whiten them all up by rubbing toothpaste to remove the stains.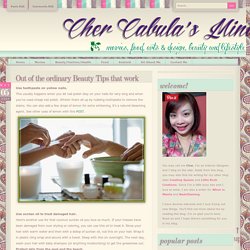 How to save a cracked powder product/ Press a mineral product
No need to throw it away, and no need to keep a broken product in your stash.