Fbailly
François
The past couple days have been pretty busy. It's been rainy, then windy, then rainy and windy. It's only a matter of time before it snows, which isn't necessarily a bad thing! So I'm approaching the halfway mark, and I think I've learned a pretty decent amount so far.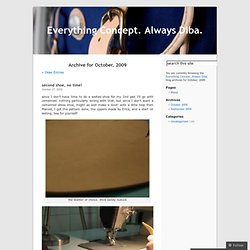 October | 2009 | Everything Concept. Always Diba.
▶ How It's Made: The HADLEY-ROMA Watchstrap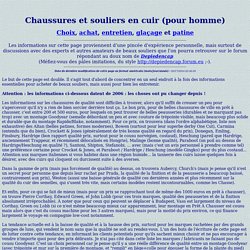 Le but de cette page est double. Il s'agit tout d'abord de concentrer en un seul endroit à la fois des informations essentielles pour acheter de beaux souliers, mais aussi pour bien les entretenir.
Chaussures et souliers en cuir pour homme : choix, achat, entretien, glaçage et patine
Alexander Nurulaeff - Shoes on Vimeo
USSR Watches
Fashion Freaks | ditt provrum på nätet
LA CHEMISE EN GRANDE MESURE
Welcome - Permanent Style
Sewing Blazers,Jackets,Coats,Suits
Fashion Freaks | ditt provrum på nätet
Sew Alongs
▶ L'héritage du totalitarisme communiste (1953-2005) Communisme & Guerre Froide
▶ L'ouverture des archives communistes de Moscou (1991-1993) Communisme & Guerre Froide
James Gallery Paris - Current Inventory - Page 1
Guide to Determining the Age and Originality of a Poljot 3133 Chronograph
samun_povt — альбом «ПЧЗ
FUTURE NOIR - Blade Runner (1982) archives Incept date: 13102010
OTAKU GANGSTA
. | stassumenkov.com
GLASS CANDY "WARM IN THE WINTER"
Limp Bizkit - Almost Over (8 Bit)
Alva Noto & Ryuichi Sakamoto - Insen [Live DVD] [2006] [Full]
Korn - Word Up
The Lyrics of Rage Against the Machine: A Study in Radical Criminology? by Laura L. Finley- JCJPC, Volume 9, Issue 3
by Laura L. Finley Western Michigan University This article analyzes selected lyrics by the now defunct metal/rap band Rage Against The Machine as a tool for teaching and understanding radical criminology.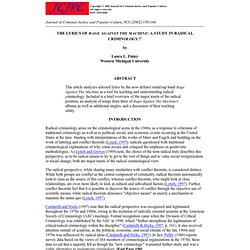 Nightcrawlers - Push The Feeling On