Wordpress
Ecco, un regalino a Firefox per natale dovevo farlo, se poi questo comporta anche migliorare la mia terribile digitazione meglio ancora. Ecco quindi due plugin, uno di cui ho già parlato, ed uno nuovo nuovo. Performancing con questo plugin potete inviare i vostri post ai vostri blog senza aprire pannelli di controllo diversi, avendo una sola interfaccia WYSIWYG univoca, funziona con diversi servizi e piattaforme: Blogger.comWordPress.comTypepad.comLivejournalMSN SpacesWordPressMovableTypeDrupalTextPatternI Blog che utilizzano le API di Blogger e MetaWeblog
40 anni buttati » Blog Archive » Performance corrette…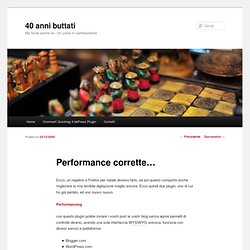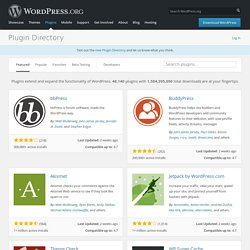 Plugins can extend WordPress to do almost anything you can imagine. In the directory you can find, download, rate, and comment on all the best plugins the WordPress community has to offer. bbPress Download bbPress is forum software, made the WordPress way BuddyPress Download Social networking in a box.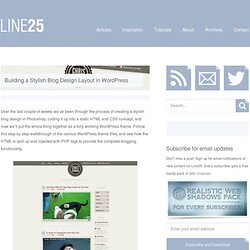 Building a Stylish Blog Design Layout in WordPress
Over the last couple of weeks we've been through the process of creating a stylish blog design in Photoshop, coding it up into a static HTML and CSS concept, and now we'll put the whole thing together as a fully working WordPress theme. Follow this step by step walkthrough of the various WordPress theme files, and see how the HTML is split up and injected with PHP tags to provide the complete blogging functionality. At the end of the last tutorial, we were left with a working HTML and CSS concept of the blog homepage. Since then, a generic inner page has been styled up, to give the CSS for page elements such as comments, author description etc that appear when viewing a complete blog post. A WordPress theme consists of multiple PHP files. Each one of these files is called from the index.php, so your header, footer and sidebar are separate files that are inserted into the index to render a full web page.
due chiacchiere
40 anni buttati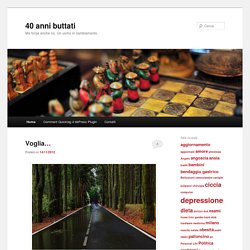 Eccoci… domani il bendaggio verrà stretto… e si ricomincieràper qualche giorno con pasti liquidi pappette yogourt etc… per poi tornare pian piano al cibo solido. Visto i tempi di assuefazione precedenti (palloncino e messa in loco del bendaggio) non dovrebbe essere una cosa lunga e nemmeno granchè problematica visto che non ho mai sofferto degli effetti collaterali usuali (nausee e vomito), vedremo! Come sempre nessuna tensione per la cosa, il mio approccio alle pratiche mediche, invasive e non, è sempre stato sereno e senza paure di sorta, resta solo la "scocciatura" della giornata di day hospital che alla fine si rivelerà essere sopratutto una infinita attesa fra uno step e quello successivo, ma mi tocca. Per il resto sono in un periodo strano, felicemente e tristemente depresso, con sbalzi di umore fequenti, uuna persona che ho conosciuto spero diverrà qualche cosa di più, ma non so… nessun acertezza, molti pensieri, paure, senso di inadeguatezza.
WPWikiItaly | Main / HomePage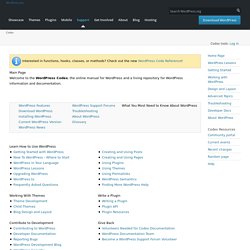 WordPress.org Ready to get started?Download WordPress Codex Codex tools: Log in
Red Alt - Page tools and resources
I'm teaching a class on Source Control Managment for Girl Develop It on Monday. In this class, I'm going to cover the basics of version control and how to accomplish it using Git. But one thing that many people have asked about this class while I've been talking about it is, Why should I learn about version control? There are many reasons to learn version control, but I've come up with what I think are five great reasons that you shouldn't avoid using a versioning tool, no matter what your skill level: