Searchengine
Drupalzilla | Drupal SEO, Drupal Tutorials. Google Powered Site Search with jQuery. Martin Angelov By far one of the most requested features by Tutorialzine's readers, is building a site-wide search.
One way to do it, is to build it yourself from the ground up. That is, to use a server-side language like PHP and run search queries on your database, displaying the results to the user. Another way is to use the services of the one search engine that already knows everything about everyone. Yep, you guessed it. Mahalo. Inquisitor ~ instant search. Phil Bradley: Finding what you need with the best search engines. Search engines that help you find whatever you're looking for.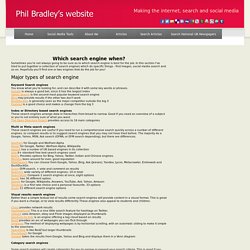 If you know the kind of information that you want, this page will assist you in identifying good web search engines to use. Major types of search engine Keyword Search enginesYou know what you're looking for, and can describe it with some key words or phrases.Google is always a good bet, since it has the largest indexYahoo Search is the second most popular keyword search engineBing may provide results if the other two don't workExalead is an excellent choice and makes a change from the big 3SearchLion covers Web, images, news, video, blogs, twitter. Nice and easy.WebNocular It's your bog standard web search engine, which covers web, image, video, news, blogs, wikis, childrens and so on. Index or Directory based search enginesThese search engines arrange data in hierachies from broad to narrow.
---