Ranking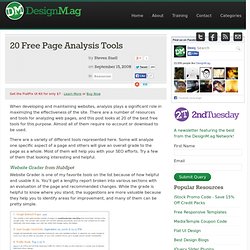 Learn how to earn $125 or more per hour as a freelancer - Click Here When developing and maintaining websites, analysis plays a significant role in maximizing the effectiveness of the site. There are a number of resources and tools for analyzing web pages, and this post looks at 20 of the best free tools for this purpose.
Learn SEO basics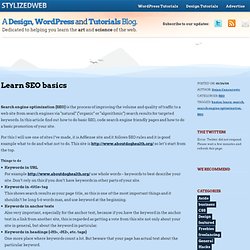 Search engine optimization (SEO) is the process of improving the volume and quality of traffic to a web site from search engines via "natural" ("organic" or "algorithmic") search results for targeted keywords. In this article find out how to do basic SEO, code search engine friendly pages and how to do a basic promotion of your site. For this I will use one of sites I've made, it is AdSense site and it follows SEO rules and it is good example what to do and what not to do. This site is http://www.aboutdoghealth.org/ so let's start from the top.
Summary Enable Clean URLs Enable Path Module and install and enable Pathauto, Global Redirect and Token Modules. Configure the Pathauto Module Install and enable the Meta Tags Module. Install enable the Page Title Module Do NOT install the Drupal Sitemap Module.
Basic Drupal SEO Tutorial: On-site Optimization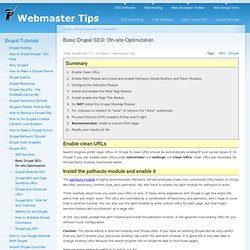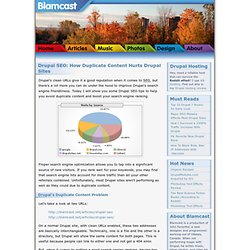 Drupal's clean URLs give it a good reputation when it comes to SEO , but there's a lot more you can do under the hood to improve Drupal's search engine friendliness. Today I will show you some Drupal SEO tips to help you avoid duplicate content and boost your search engine ranking. Proper search engine optimization allows you to tap into a significant source of new visitors. If you rank well for your keywords, you may find that search engine hits account for more traffic than all your other referrals combined. Unfortunately, most Drupal sites aren't performing as well as they could due to duplicate content. Drupal's Duplicate Content Problem
Drupal SEO: How Duplicate Content Hurts Drupal Sites
The Basics of Search Engine Optimization
The Basics of Search Engine Optimization My aunt and uncle from Cologne called asking how they could successfully get their new site into Google. I want to wrap up some of the tips I gave them – if you already know about SEO (Search Engine Optimization) feel free to skip. If not; there are three important steps to rank your site well with search engines. First, you got to create good content . Second, you ought to make your content accessible .