Psychology
Floorplanning the easy way Floorplanner is the easiest and best-looking way to create and share interactive floorplans online. Whether you're moving into a new house, planning a wedding or reorganizing your living room, Floorplanner has the right tools for you. With Floorplanner you can recreate your home, garden or office in just a few clicks and furnish your plans with our huge library of objects. Great real estate As a real estate professional, you work with floorplans every day.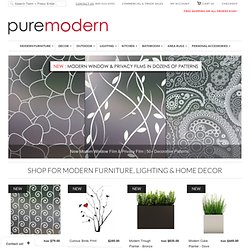 Just a few reasons to shop at PureModern : PureModern has been built over the years by a dedicated staff that continues to hand pick nearly every item that is offered to our customers. Every product we offer from modern bar stools, modern planters & garden products, gift items, home accessories and even unique watches are products each and every one of us would own ourselves. There's not one item you'll find on our website that we haven't seen in person, have owned, or personally chosen. We hope you are as excited as we are with PureModern offering some of the most interesting modern furniture and home products available.
Pure Modern Storefront - modern objects
The colors of the rooms within your home need to bring out your personality. While most of us may not spend a lot of time thinking about room color, it affects every day of our lives. Room color can influence our mood and our thoughts. Colors affects people in many ways, depending upon one's age, gender, ethnic background or local climate. Certain colors or groups of colors tend to get a similar reaction from most people – the overall difference being in the shade or tones used. So when it comes to decorating, it is important to choose wisely.