My-portfolio
2009
Di Motor. Di Martino Trasporti S.p.A. Agriturismo Leone. Italycomex, international smart trading. All Drupal Themes | Providing free high quality Drupal themes! Drupal SEO is Easy. I began the Devbee website back in March as a way to help others by way of documenting what I have learned about Drupal and also to drum up a little bit of business for myself.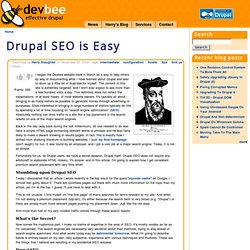 The content of this site is extremely targeted, and I don't ever expect to see more than a few hundred visits a day. This definitely does not reflect the expectations, or at least hopes, of most website owners. It's typically all about bringing in as many visitors as possible to generate money through advertising or purchases. TextDrive. The CMS Matrix - The Content Management Comparison Tool. CMSmatrix lets you easily compare the features in over 1200 content management system products.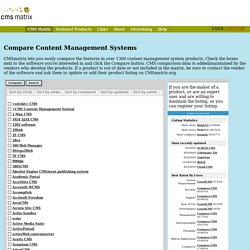 Check the boxes next to the software you're interested in and click the Compare button. CMS comparison data is added/maintained by the vendors who develop the products. If a product is out of date or not included in the matrix, be sure to contact the vendor of the software and ask them to update or add their product listing on CMSmatrix.org. Allakatalla: Turismo e Cultura in Val di Noto. WordPress.
---