Optimization
Compress. Ranking. Migliorare le performance di Drupal. A chi capita di relaizzare siti, dopo la fase iniziale di produzione e prima configurazione non può tralasciare al seconda fase, ma non meno importante, di messa a punto del sistema.
Per fare questo uno strumento che non può mancare è FireBug con l'accoppiata di YSlow . Dopo l'installazione di base lanciandolo sul nostro sito vediamo che se abbiamo usato un buon sistema di pubblicazione , allora otterremo un discreto punteggio già di partenza, una installazione di prova ha rilevato che è possiblile raggiungere come base un punteggio di circa 77 punti. Vediamo ora come portare il nostro punteggio (e quindi la velocità percepita dagli utenti) a livelli ben più alti. Cosa analizza YSlow. Martian Software - NailGun: Insanely Fast Java. Last Updated November 25, 2012 Thinnest.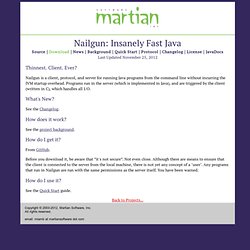 Client. Ever? Nailgun is a client, protocol, and server for running Java programs from the command line without incurring the JVM startup overhead. Programs run in the server (which is implemented in Java), and are triggered by the client (written in C), which handles all I/O.
---