Optimization
Over the summer I wrote a post called 5 Ways to Speed Up Your Site that went through some basic tips for getting your site to load faster.
How To: Optimize Your CSS Even More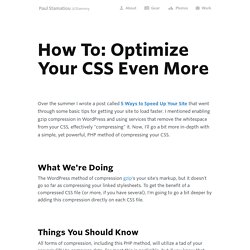 A chi capita di relaizzare siti, dopo la fase iniziale di produzione e prima configurazione non può tralasciare al seconda fase, ma non meno importante, di messa a punto del sistema.
Migliorare le performance di Drupal
Martian Software - NailGun: Insanely Fast Java
Last Updated November 25, 2012 Thinnest.