Menu
Dynamic Drive DHTML Scripts -DD Tab Menu (5 styles) Updated Feb 23rd, 08: Adds ability for menu to revert back to default selected tab when mouse moves out of menu.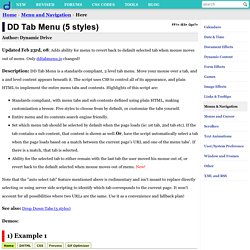 Only ddtabmenu.js changed! Description: DD Tab Menu is a standards compliant, 2 level tab menu. Move your mouse over a tab, and a 2nd level content appears beneath it. The script uses CSS to control all of its appearance, and plain HTML to implement the entire menu tabs and contents. CSS . Learn . solarDreamStudios. Learn advanced Adobe Fireworks tutorials that can help you better understand how to make your site more visually appealing.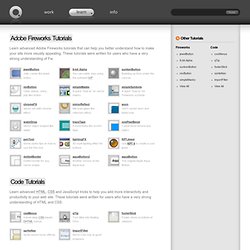 These tutorials were written for users who have a very strong understanding of Fw. Advanced CSS Menu. Last tutorial, I showed you how to design a watercolor effect menu in Photoshop.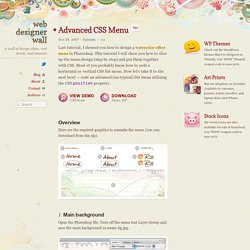 This tutorial I will show you how to slice up the menu design (step by step) and put them together with CSS. Most of you probably know how to code a horizontal or vertical CSS list menu. Now let's take it to the next level — code an advanced (un-typical) list menu utilizing the CSS position property. View Demo CSS menu. Revenge of the Menu Bar Demo.
---