Marketing
Viral Video and Print Advertising - Get Creative, go Viral and Win Cash | Zooppa.com
Taste Nirvana
Google PageRank: What Do We Know About It?
Everybody is using it, but (almost) nobody really knows how it works. Google PageRank is probably one of the most important algorithms ever developed for the Web. With billions of existing pages and millions of pages generated every day, the search issue in the Web is more complex than you probably think it is.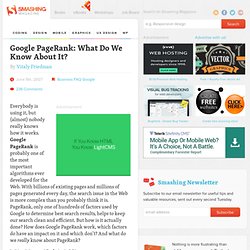 [Note: I recently updated this compilation to include some more recent visualizations... you can see it here .] Here's a collection of terrific social media infographics that might come in handy. As you probably know, infographics are visual representations of information, data, or knowledge. They illustrate information that would be unwieldy in text form and they act as a kind of visual shorthand, making information easy to understand and consume. They are driven by the same information as charts, but they're often a better form of communication because of their pleasant aesthetics — charts and graphs can communicate data, but infographics turn data into information. It's very helpful to use infographics in presentations, reports, articles, etc., to convey concepts.