Del.icio.us
Experimental del.icio.us Posting Interface Thing Generator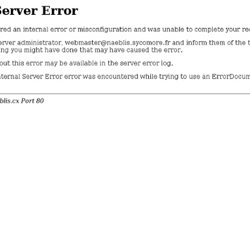 The server encountered an internal error or misconfiguration and was unable to complete your request. Please contact the server administrator, webmaster@naeblis.sycomore.fr and inform them of the time the error occurred, and anything you might have done that may have caused the error. More information about this error may be available in the server error log.
December 10th, 2006 | Published in Uncategorized Nearly two years ago, I wrote a utility to check your del.icio.us tags for duplication using Porter stemming . Until today, the application had stopped working completely due to the fragility of the screenscraping code it was using. For fun, I've done a rewrite using Ruby and Hpricot , with all-new fragile screenscraping code based on the del.icio.us JSON feeds (thanks to Lenny Domnitser for pointer those out to me).
del.icio.us tag stemmer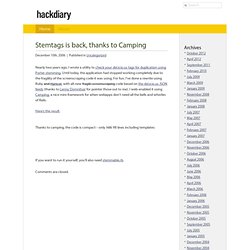 Sociallist.org
SuprGlu - Gluing your life together.
trendalicious!
LiveMarks
Del.icio.us popular sites
del.icio.us pioneers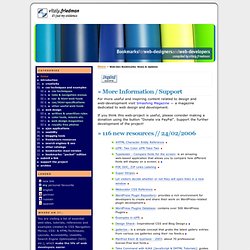 For more useful and inspiring content related to design and web-development visit Smashing Magazine — a magazine dedicated to web design and development. If you think this web-project is useful, please consider making a donation using the button "Donate via PayPal". Support the further development of the project! Webtips: Best E20-340 training provider. If you want to get quick success on your 646-671 exams, then subscribe for online 646-985 prep by certkiller for guarantee pass results in your exam.
Essential bookmarks for web-designers and webdevelopers | CSS, Color Tools, Royalty free photos, Usability etc.
[delicious-discuss] big news
"Post comments to suggest any tools I missed here"…OK, here goes. As part of a tutorial on how to build side-bars for IE without having to learn C++ (instead using XForms), I produced a panel that allows you to add the current browser page to del.icio.us–with tags–in one click. The XForm side-bar picks up the title of the page you are looking at in the main frame, as well as any keywords in the META tags, which will then be used as tag suggestions.
gre.gario.us
A cool WYSIWYG digest tool for del.icio.us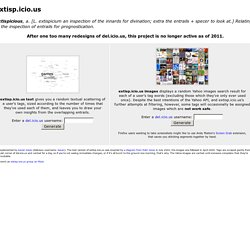 extispicious , a. [L. extispicium an inspection of the innards for divination; extra the entrails + specer to look at.] Relating to the inspection of entrails for prognostication.