Drupal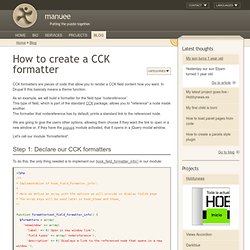 How to create a CCK formatter | manuee – Putting the puzzle together.
CCK formatters are pieces of code that allow you to render a CCK field content how you want. In Drupal 6 this basicaly means a theme function. As an example, we will build a formatter for the field type 'nodereference'.
Mustardseed Media Inc.
Add a language switcher link to $primary_links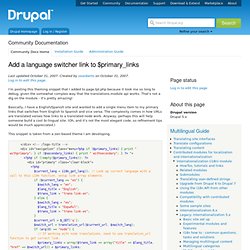 Last updated October 31, 2007. Created by seanberto on October 31, 2007. Log in to edit this page. I'm posting this theming snippet that I added to page.tpl.php because it took me so long to debug, given the somewhat complex way that the translations.module api works. That's not a dig on the module - it's pretty amazing! Basically, I have a English/Spanish site and wanted to add a single menu item to my primary links that switches from English to Spanish and vice versa.
I love Cufon.
Cufon your Drupal Theme in 4 Steps | SooperThemes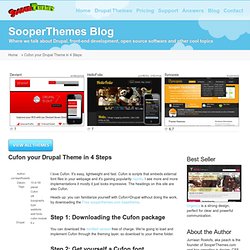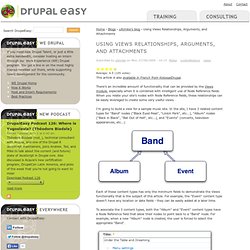 This article is also available in French from KolossalDrupal. There's an incredible amount of functionality that can be provided by the Views module, especially when it is combined with intelligent use of Node Reference fields.
Using Views Relationships, Arguments, and Attachments
via positiva
Articles | 2bits.com, Inc. - Drupal Development, Customization and Consulting
Nick Lewis: The Blog | Drupal, CSS, Web Development, and the Myriad Iconoclasts