Concerns about Religion
Tennessee Passes 'Monkey Bill' To Teach The 'Controversy' On Evolution And Climate Science. By Brad Johnson on March 21, 2012 at 9:30 am "Tennessee Passes 'Monkey Bill' To Teach The 'Controversy' On Evolution And Climate Science" On Monday, the Tennessee state legislature passed legislation that requires public schools to teach the "controversy" over evolution, global warming, and human cloning: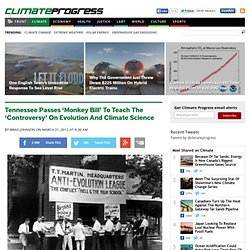 Anonymous disables Vatican website, protests Catholic church - National Anonymous. Anonymous hacktivists in Italy take responsibility for temporarily disabling the Vatican website, claims the Vatican represents an absurd anachronism.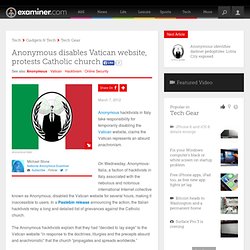 On Wednesday. Anonymous-Italia, a faction of hacktivists in Italy associated with the nebulous and notorious international Internet collective known as Anonymous, disabled the Vatican website for several hours, making it inaccessible to users. In a Pastebin release announcing the action, the Italian hacktivsts relay a long and detailed list of grievances against the Catholic church. The Anonymous hacktivists explain that they had "decided to lay siege" to the Vatican website "in response to the doctrines, liturgies and the precepts absurd and anachronistic" that the church "propagates and spreads worldwide." How the purity culture made me afraid of men | Love Joy Feminism. Navy atheist required to pray, say "Amen", and feign hatred of atheists. Bryan Fischer: Petty little high school junior is America's newest religious bigot - RIGHTLYCONCERNED.COM. By Bryan Fischer Follow me on Twitter: @BryanJFischer, on Facebook at "Focal Point" I have created the American Association of Religious Bigots (AARB) to honor the Christophobes in America who just cannot stand the thought that someone, somewhere, might be enjoying his unalienable, God-given right to religious liberty and freedom of speech.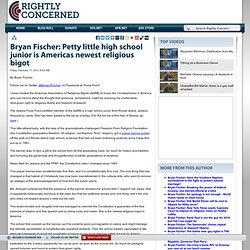 The newest Focal Point-certified member of the AARB is a high school junior from Rhode Island, Jessica Ahlquist by name. She has been added to the list as of today. (For the full list of this Hall of Shame, go here.) Rice Boy. Rice Boy is a brightly colored and surreal fantasy adventure story, set in the ninth century of the Red Age of Overside.
It was started in April 2006 and finished in May 2008. It is divided into five books, and available in one printed edition. You can read the entire story here. Purchase the Book | Purchase the Limited Hard-Cover Book In which old friends The One Electronic and Calabash meet and discuss business over drinks, paid for by Mr. Rice Boy. One Town's War on Gay Teens | Politics News. Christian Fascism Is Coming to a Public School Near You | Friendly Atheist. DUQpb.jpg (535×553) Why Is an Atheist High School Student Getting Vicious Death Threats? January 18, 2012 | Like this article?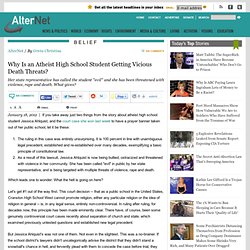 Join our email list: Stay up to date with the latest headlines via email. If you take away just two things from the story about atheist high school student Jessica Ahlquist, and the court case she won last week to have a prayer banner taken out of her public school, let it be these: The ruling in this case was entirely unsurprising. Mother Starves Son for Resurrection Experiment | Unreasonable Faith. Reporter of Bill Nye, Moonbat story speaks - National skepticism. When Tim Woods attended a lecture of Bill Nye's at McClennan Community College, he could hardly have known it would become the an Internet sensation.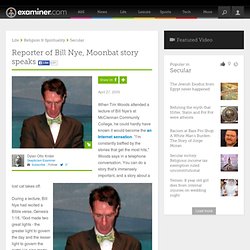 "I'm constantly baffled by the stories that get the most hits," Woods says in a telephone conversation. You can do a story that's immensely important, and a story about a lost cat takes off. During a lecture, Bill Nye had recited a Bible verse, Genesis 1:16, "God made two great lights - the greater light to govern the day and the lesser light to govern the night. Homosexuals a national security risk. Playing God: The Loving Psychopath. Christopher Hitchens and Stephen Fry on The Ten Commandments. Priest says Hell is an invention of the church to control people with fear .avi. Thursday, Dec. 15, 2011 - Quotes of the Day - TIME.com. Return to Africa's Witch Children - Planet Documentary. A story of an estimated 15,000 children in Africa's Niger Delta being denounced by Christian pastors as witches and wizards and then killed, tortured or abandoned by their own families.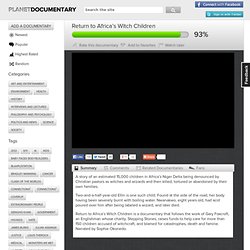 Two-and-a-half-year-old Ellin is one such child. Found at the side of the road, her body having been severely burnt with boiling water. Nwanakwo, eight years old, had acid poured over him after being labeled a wizard, and later died. Return to Africa's Witch Children is a documentary that follows the work of Gary Foxcroft, an Englishman whose charity, Stepping Stones, raises funds to help care for more than 150 children accused of witchcraft, and blamed for catastrophes, death and famine.
Narrated by Sophie Okonedo. Texans: Dinosaurs, Humans Walked the Earth at Same Time — Public Education. Nearly a third of Texans believe humans and dinosaurs roamed the earth at the same time, and more than half disagree with the theory that humans developed from earlier species of animals, according to the University of Texas/Texas Tribune Poll.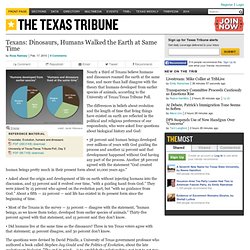 The differences in beliefs about evolution and the length of time that living things have existed on earth are reflected in the political and religious preference of our respondents, who were asked four questions about biological history and God: • 38 percent said human beings developed over millions of years with God guiding the process and another 12 percent said that development happened without God having any part of the process. Another 38 percent agreed with the statement "God created human beings pretty much in their present form about 10,000 years ago. " • Asked about the origin and development of life on earth without injecting humans into the discussion, and 53 percent said it evolved over time, "with a guiding hand from God.
" One Million Dads.com - Issue details. According to the Nashville Gay Pride website, Home Depot gave over $5,000 to be a major sponsor of its 2009 Gay Pride Festival in June.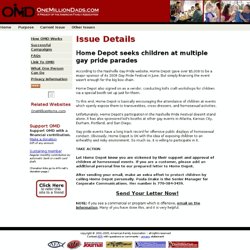 But simply financing the event wasn't enough for the big box chain. Home Depot also signed on as a vendor, conducting kid's craft workshops for children via a special booth set up just for them. To this end, Home Depot is basically encouraging the attendance of children at events which openly expose them to transvestites, cross-dressers, and homosexual activities. Unfortunately, Home Depot's participation in the Nashville Pride Festival doesn't stand alone. One Million Moms.com - Issue details. Australian to Get 500 Lashes for Blasphemy - Middle East.
205.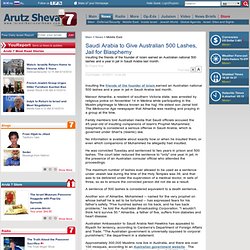 Blasphemy Those 'defenders' of Muhammed and his friends are the real blasphemers. They elevate themselves above Muhammed indicating he can't defend himself, they put him in the light to be weak, so they have to help him.Are those 'defenders' stronger than Muhammed? Do they say, we have to come to help our prophet, we protect him? Perry TV Ad: I Can Defend Faith from Obama's "War on Religion" Abstinence-Only Education and Teen Pregnancy Rates: Why We Need Comprehensive Sex Education in the U.S. The United States ranks first among developed nations in rates of both teenage pregnancy and sexually transmitted diseases. In an effort to reduce these rates, the U.S. government has funded abstinence-only sex education programs for more than a decade.
However, a public controversy remains over whether this investment has been successful and whether these programs should be continued. Using the most recent national data (2005) from all U.S. states with information on sex education laws or policies (N = 48), we show that increasing emphasis on abstinence education is positively correlated with teenage pregnancy and birth rates. Afghanistan's Bloody Tuesday - An FP Slideshow. On Tuesday, Dec. 6., rare sectarian attacks in Kabul and Mazar-i-Sharif killed at least 58 people, stunning Muslim celebrants of the Shiite religious festival of Ashura.
Most of the casualties came from a suicide bomb detonated at a shrine in the Afghan capital, where 54 people have been reported killed thus far. A third attack was attempted in Kandahar but resulted in no fatalities. Responsibility was not immediately claimed for the attacks. The apparently sectarian nature of the attacks was new for Afghanistan. President Hamid Karzai, in Berlin for a meeting with German Chancellor Angela Merkel, called the explosions, "the first time that on such an important religious day in Afghanistan, terrorism of that horrible nature is taking place.
"
Why Are People Still Afraid of Atheism? November 23, 2011 | Like this article? Join our email list: Greta Christina's Blog: Atheists and Anger. I want to talk about atheists and anger. This has been a hard piece to write, and it may be a hard one to read. I'm not going to be as polite and good-tempered as I usually am in this blog; this piece is about anger, and for once I'm going to fucking well let myself be angry. But I think it's important. One of the most common criticisms lobbed at the newly-vocal atheist community is, "Why do you have to be so angry? " So I want to talk about: Reddit Anecdotes. Zach Wahls Speaks About Family. Zach Wahls is messed up. Here's how. I've seen this video floating around facebook quite a bit the past day or so. If you haven't seen the video, watch it. If you already have, just to refresh your memory, the YouTube video summary says exactly this: Zach Wahls, a 19-year-old University of Iowa student spoke about the strength of his family during a public forum on House Joint Resolution 6 in the Iowa House of Representatives.
Homosexuality criminalized by Nigerian Senate: Christians, Muslims cheer - National Humanist. Original Greek Definition of Asenokoitai.
---