Skyrim
Realistic Water Textures
.INI Compendium
How to allow Nvidia and ATI Software detect 4GB Launcher (Possible Large Performance Increase)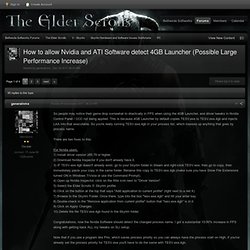 So people may notice their game drop somewhat to drastically in FPS when using the 4GB Launcher, and driver tweaks in Nvidia Control Panel / CCC not being applied.
Serious HD Retexture Landscape Skyrim at Skyrim Nexus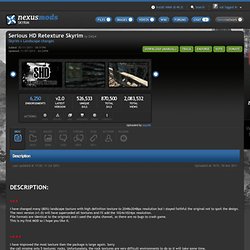 v.0.9 I have changed many (80%) landscape taxture with high definition texture to 2048x2048px resolution but I stayed faithful the original not to spoil the design.The next version (v1.0) will have superceded all textures and I'll add the 1024x1024px resolution.File formats are identical to the originals and I used the alpha channel, so there are no bugs to crash game.This is my first MOD so i hope you like it. v.0.9.9 I have improved the most texture then the package is large again. Sorrythe call missing only 5 textures: rocks.
4GB Skyrim
Enthusiast Graphics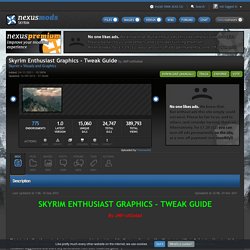 By JMFruitSalad This tutorial will guide you step by step, giving a complete description of the Skyrim configuration files (Skyrim.ini and SkyrimPrefs.ini) and how to edit them for the best possible graphics on modern PC hardware. I would like to thank the community for their input and encourage everybody to leave feedback/suggestions and share any screenshots from their modified game =)
Skyrim Total Enhancement Project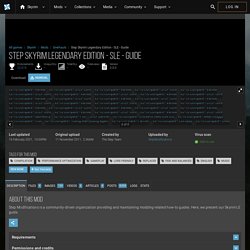 An enhanced Skyrim experience. STEP is an extensive, STEP-by-STEP, guide to enhancing TESV Skyrim with the best mods, tweaks and settings. The focus is quality over quantity. STEP tries to stay as close to vanilla Skyrim as possible while improving visual quality and fixing game-play mechanics.