Spring-security with Hibernate
Basic Spring Security with ICEfaces
This tutorial will walk you through the process of using Spring Security for authentication of an ICEfaces/JSF web application. Additionally, Spring Security and ICEfaces components will be used to authorize access to different pages and functions in the application. The application uses Spring Security 2.0 and ICEfaces.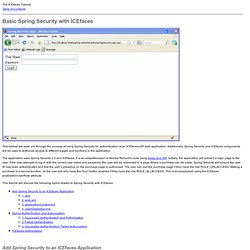 Consultas Con HibernateTemplate - Dos Ideas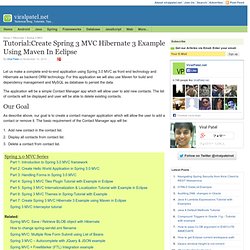 Tutorial:Create Spring 3 MVC Hibernate 3 Example using Maven in Eclipse | ViralPatel.net
Let us make a complete end-to-end application using Spring 3.0 MVC as front end technology and Hibernate as backend ORM technology. For this application we will also use Maven for build and dependency management and MySQL as database to persist the data. The application will be a simple Contact Manager app which will allow user to add new contacts.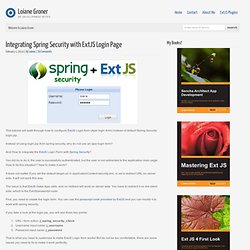 This tutorial will walk through how to configure ExtJS Login form (Ajax login form) instead of default Spring Security login.jsp. Instead of using login.jsp from spring security, why do not use an ajax login form?
Integrating Spring Security with ExtJS Login Page | Loiane Groner
In Part 1 of this tutorial we've completed setting up the ACL and Bulletin databases.
krams::: Spring Security 3: Full ACL Tutorial (Part 4)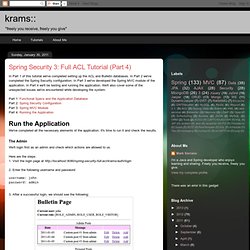 Spring Framework Fundamentals (DVD ROM Edition) Online Training Course
The course is really well structured, covering all the themes that allow the programmer to have a real control of the framework and orient himself in Spring technology even in case he didn´t know absolute anything about it, as was for me before starting the course.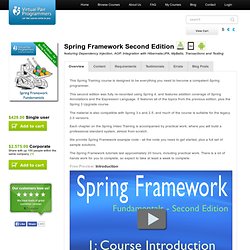 Update!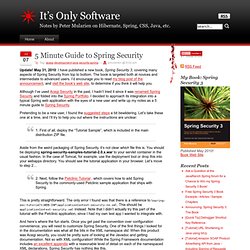 » 5 Minute Guide to Spring Security – It's Only Software
Hi guys, This blog completed one year and 2010 is coming to an end. So I decided to list the TOP 10 articles/tutorials of 2010.
Top 10 Articles of 2010: Spring, Spring Security, Ext JS, Hibernate | Loiane Groner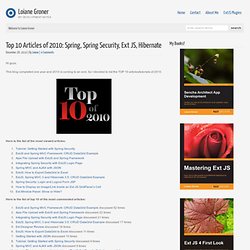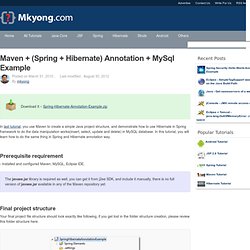 Maven + (Spring + Hibernate) Annotation + MySql Example
In last tutorial, you use Maven to create a simple Java project structure, and demonstrate how to use Hibernate in Spring framework to do the data manipulation works(insert, select, update and delete) in MySQL database. In this tutorial, you will learn how to do the same thing in Spring and Hibernate annotation way. Prerequisite requirement
JBoss 4.2.x Spring 3 JPA Hibernate Tutorial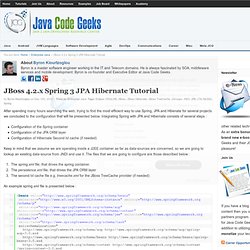 After spending many hours searching the web, trying to find the most efficient way to use Spring, JPA and Hibenate for several projects we concluded to the configuration that will be presented below.
[Spring Security] – Implementing Custom UserDetails using Hibernate | Thread.currentThread().join()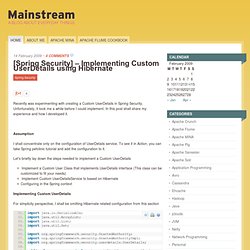 Recently was experimenting with creating a Custom UserDetails in Spring Security. Unfortunately, it took me a while before I could implement.
Maven + Spring Security + Hibernate
Annotation-Based Spring Portlet MVC on Vimeo