SQL Server
The SQL Server 2005 Performance Dashboard Reports are Reporting Services report files designed to be used with the Custom Reports feature introduced in the SQL Server 2005 SP2 release of SQL Server Management Studio. The reports allow a database administrator to quickly identify whether there is a current bottleneck on their system, and if a bottleneck is present, capture additional diagnostic data that may be necessary to resolve the problem. For example, if the system is experiencing waits for disk IO the dashboard allows the user to quickly see which sessions are performing the most IO, what query is running on each session and the query plan for each statement. Common performance problems that the dashboard reports may help to resolve include: - CPU bottlenecks (and what queries are consuming the most CPU) - IO bottlenecks (and what queries are performing the most IO). - Index recommendations generated by the query optimizer (missing indexes) - Blocking - Latch contention
SQL Server Engine Tips : SQL Server 2005 Performance Dashboard Reports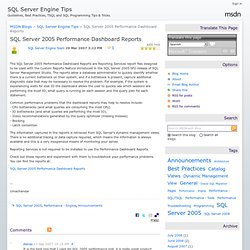 SQL Tutorial, Tips - update query syntax - Structured Query Language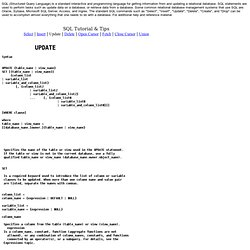 The UPDATE statement is logged; if you are replacing or modifying large blocks of text or image data, use the WRITETEXT or UPDATETEXT statement instead of the UPDATE statement. The WRITETEXT and UPDATETEXT statements (by default) are not logged. For details, see the Text and Image Manipulation topic. An UPDATE statement must follow the rules for a batch. For details, see the Batches topic.
Windows Azure SQL Reporting Admin Sample - The SQLReportingAdmin sample for Windows Azure SQL Reporting demonstrates the usage of SQL Reporting APIs, and manages (add/update/delete) permissions of SQL Reporting users. Windows Azure SQL Reporting ReportViewer-SOAP API usage sample - These sample projects demonstrate how to embed a Microsoft ReportViewer control that points to reports hosted on SQL Reporting report servers and how to use SQL Reporting SOAP APIs in your Windows Azure Web application. Enterprise Library 5.0 - Integration Pack for Windows Azure - The Microsoft Enterprise Library Integration Pack for Windows Azure is an extension to the Microsoft Enterprise Library 5.0 that can be used with Windows Azure. SQL Azure Migration Wizard - SQL Azure Migration Wizard (SQLAzureMW) is designed to help you migrate your SQL Server 2005/2008/2012 databases to SQL Azure. Sharding in Azure Using Custom LINQ and Custom OData Providers - This example implements a sharding sample for Azure.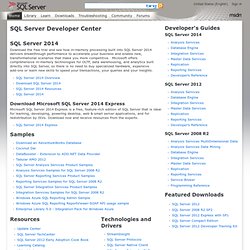 SQL Server Developer Center (MSDN)
The Concept of Cardinal Reciprocity- A Primer
Too many authors in the field of relational theory have neglected the concept of Cardinal Reciprocity. This can cause a number of subtle problems with database design in terms of its derivability, redundancy, and consistency. .
SQL Server Developer Center (MSDN)