Productivity Software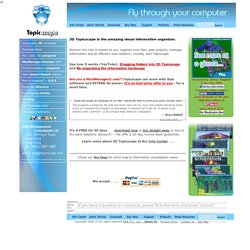 3D Topicscape is the amazing visual information organizer. Recover the cost in weeks as you organize your files, plan projects, manage information and do efficient web research, visually, with Topicscape. See how it works (YouTube): Dragging folders into 3D Topicscape and Re-organizing the information landscape Are you a MindManager® user? Topicscape can work with that software and EXTEND its power: It's on half-price offer to you - for a short time. Try it FREE for 30 days . . . download now or buy straight away to secure the early adopters' discount!
What software do you use for Issue and Dialogue Mapping? We recommend using Compendium software for this type of mapping, as it allows you to extend, reuse and share IBIS maps far more easily than with hand-drawn maps or indented text IBIS (itIBIS) structures. Compendium was initially developed in Verizon research labs as a next generation version of the QuestMap product. QuestMap was the first commercially available software that supported the IBIS (Issue-Based Information System) methodology, as used in Dialogue Mapping. Learning Compendium requires a bit of time investment, but we believe it is the best software currently available to do this kind of mapping.
Compendium
Works with Office/PDF How to make colleagues access our mind map if they don't have XMind? With some simple operations, we can export our mind map into about 10 universal formats by the export functionality. By this way, your team can collaborate seamlessly.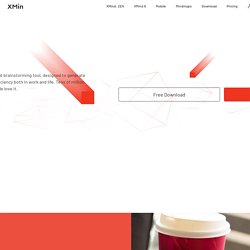 The Best CompaniesInnovate With Mindjet. 300 Startups Enter Competition Close Cisco UK Uses Mindjet to Promote Innovative Startups Cisco was eager to raise awareness of its role as an innovation leader and highlight its growing partnerships with governments and global communities.