Languages
Welcome to C# Station! This is a community site for people interested in applying .NET using the C# programming language. We've been around since July 4th 2000 and have continued to grow over the years. Items of interest include Articles, Books, Links, Documentation, and Tutorials.
C# Station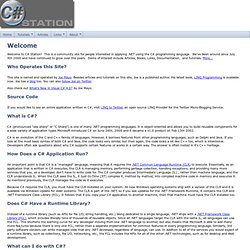 C Sharp Development 101 – A Tutorial Series
Tutorial start - C# Tutorial
Welcome to this C# Tutorial, currently consisting of 49 articles covering all the most important C# concepts. This tutorial is primarily for new users of this great technology, and we recommend you to go through all the chapters, to get the most out of it as possible. While each chapter can be used without reading the previous chapters, some of them may reference things done in earlier chapters. Have a look at the Table of contents to the right, where all the chapters are listed.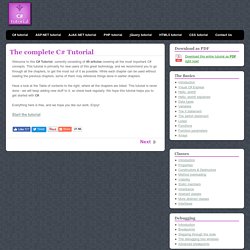 Microsoft C# (pronounced C sharp) is a new programming language designed for building a wide range of enterprise applications that run on the .NET Framework. An evolution of Microsoft C and Microsoft C++, C# is simple, modern, type safe, and object oriented. C# code is compiled as managed code, which means it benefits from the services of the common language runtime. These services include language interoperability, garbage collection, enhanced security, and improved versioning support. C# is introduced as Visual C# in the Visual Studio .NET suite. Support for Visual C# includes project templates, designers, property pages, code wizards, an object model, and other features of the development environment.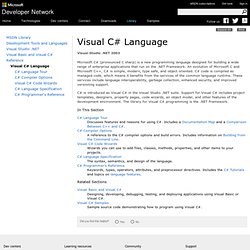 Visual C# Language