Youtube
A Vision of Students Today (& What Teachers Must Do) In spring 2007 I invited the 200 students enrolled in the "small" version of my "Introduction to Cultural Anthropology" class to tell the world what they think of their education by helping me write a script for a video to be posted on YouTube.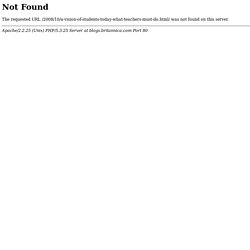 The result was the disheartening portrayal of disengagement you see below. The video was viewed over one million times in its first month and was the most blogged about video in the blogosphere for several weeks, eliciting thousands of comments. With rare exception, educators around the world expressed the sad sense of profound identification with the scene, sparking a wide-ranging debate about the roles and responsibilities of teachers, students, and technology in the classroom. Despite my role in the production of the video, and the thousands of comments supporting it, I recently came to view the video with a sense of uneasiness and even incredulity.
Surely it can't be as bad as the video seems to suggest, I thought. Educoz's Channel. PHPmotion :: free video sharing script - free youtube clone - free youtube script - free video sharing software - you tube clone - media sharing script - social networking scrript.
---