windows
Get flash to fully experience Pearltrees
Design Philosophy: Simple ~ Powerful ~ Stable SlickRun is a free floating command line utility for Windows. SlickRun gives you almost instant access to any program or website. SlickRun allows you to create command aliases (known as MagicWords ), so C:\Program Files\Outlook Express\msimn.exe becomes MAIL . Enter a web URL into SlickRun and it will launch your browser and navigate to the specified address.
The page you are looking for might have been removed, had its name changed, or is temporarily unavailable. Please try the following: Make sure that the Web site address displayed in the address bar of your browser is spelled and formatted correctly. If you reached this page by clicking a link, contact the Web site administrator to alert them that the link is incorrectly formatted.
auditpol.exe: manage the system audits logs (net fuctions) AuditPol [\\computer] [/enable | /disable] [/help | /?] [/Category:Opti /Enable = Enable audit (default). /Disable = Disable audit.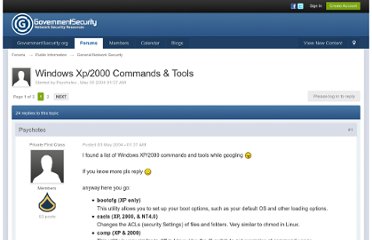 Note: This article is now available on the Amazon Kindle Bookstore: Repairing Windows XP in Eight Commands . Download a convenient e-book version of this article to keep at your side while you repair your computer. Every IT tech from casual to professional should have a copy of this handy reference on their e-reader! Most of us have seen it at one time or another; perhaps on our own PC, the PC of a loved one, or perhaps a PC at your place of employment. The system spends weeks or months operating in a smooth fashion, taking you to the far reaches of the wide, wibbly web, and after one particularly late evening of browsing and gaming, you shut your PC off and go to bed.