Security::tools
I have some fantastic free tools that you can't live without, I can't tell you how many times visitors found and fixed serious flaws on their computer or website that would have leaked private information or given the competition the upper hand! If you're worried about privacy, concerned with speed or just want to learn more, you'll love the security audits, speed tests and free software while webmasters will love our website utilities, such as our link checker, sitemap creator and our website monitoring services. Our most popular web tools and security services: Firewall Test: The key to Internet Security begins with a firewall, but when configured wrong, even the best firewall can leave you exposed and vulnerable.Our free firewall test and exploit scanner checks to make sure you are not leaving yourself open to attack! Digital Footprint: It's amazing how much information a person gives away when they surf the internet; do you know how much personal information you are giving away?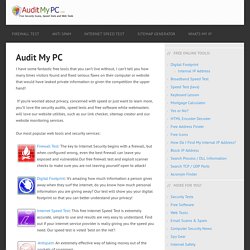 WinPcap, The Packet Capture and Network Monitoring Library for Windows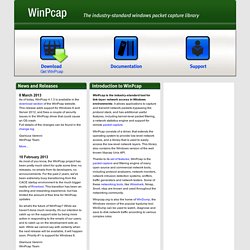 WinPcap is the industry-standard tool for link-layer network access in Windows environments: it allows applications to capture and transmit network packets bypassing the protocol stack, and has additional useful features, including kernel-level packet filtering, a network statistics engine and support for remote packet capture. WinPcap consists of a driver, that extends the operating system to provide low-level network access, and a library that is used to easily access the low-level network layers. This library also contains the Windows version of the well known libpcap Unix API. Thanks to its set of features, WinPcap is the packet capture and filtering engine of many open source and commercial network tools, including protocol analyzers, network monitors, network intrusion detection systems, sniffers, traffic generators and network testers. Some of these networking tools, like Wireshark, Nmap, Snort, ntop are known and used throughout the networking community.