Pedagogy
Discussion
MOVING FROM PEDAGOGY TO ANDRAGOGY. (Adapted and Updated from Hiemstra, R., & Sisco, B. (1990).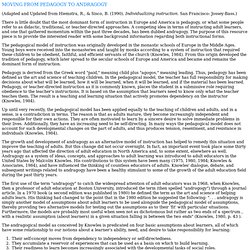 Individualizing instruction. San Francisco: Jossey-Bass.) There is little doubt that the most dominant form of instruction in Europe and America is pedagogy, or what some people refer to as didactic, traditional, or teacher-directed approaches. A competing idea in terms of instructing adult learners, and one that gathered momentum within the past three decades, has been dubbed andragogy. The purpose of this resource piece is to provide the interested reader with some background information regarding both instructional forms. EduBlog Insights » Blog Archive » Rationale for educational blogging.
I was recently asked to give a rationale for educational blogging.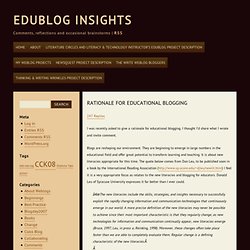 I thought I'd share what I wrote and invite comment. Blogs are reshaping our environment. They are beginning to emerge in large numbers in the educational field and offer great potential to transform learning and teaching. It is about new literacies appropriate for this time. The quote below comes from Don Leu, to be published soon in a book by the International Reading Association ( I feel it is a very appropriate focus as relates to the new literacies and blogging for educators. All Tutorials - Ning Developer Network. Pedagogy defines School 2.0 at The Thinking Stick. Earlier this week I read the first paragraph of Chris Lehmann's post: Some Thoughts About School 2.0 –Part 1.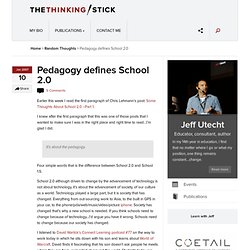 I knew after the first paragraph that this was one of those posts that I wanted to make sure I was in the right place and right time to read…I'm glad I did. It's about the pedagogy. Four simple words that is the difference between School 2.0 and School 1.5. School 2.0 although driven to change by the advancement of technology is not about technology, it's about the advancement of society, of our culture as a world.
---