Ngconf09
Schedule
Googleearth. Twitter StreamGraphs. A StreamGraph is shown for the latest 1000 tweets which contain the search word.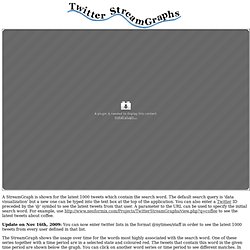 The default search query is 'data visualization' but a new one can be typed into the text box at the top of the application. You can also enter a Twitter ID preceded by the '@' symbol to see the latest tweets from that user. A parameter to the URL can be used to specify the initial search word. For example, use. Introduction. Healthy Schools Week @ Ringway by Mr Sutton. RAM - Amazing Animation. Ideas for using Wallwisher in the classroom by Mr Sutton. The Educational Technology Site: ICT in Education: --> How do we make most schools e-enabled? Assuming that we think e-enablement is a worthy goal (definitions vary, but one of the most popular is that a school is said to be e-enabled if it could not function without its technology; I'm not sure that's a good position to be in, but I get the point), how do we achieve it?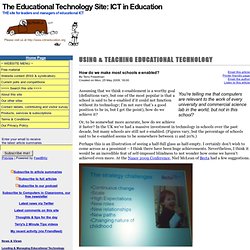 Or, to be somewhat more accurate, how do we achieve it faster? In the UK we've had a massive investment in technology in schools over the past decade, but many schools are still not e-enabled. (Figures vary, but the percentage of schools said to be e-enabled seems to be somewhere between 11 and 20%.) Perhaps this is an illustration of seeing a half-full glass as half-empty. I certainly don't wish to come across as a pessimist – I think there have been huge achievements. TeachmeetNE. Thursday 18th June 2009 7.00pm - 9.30pm (bar open until 11pm) Tyneside Bar, Tyneside Cinema, Newcastle upon Tyne Hosted at the beautiful Tyneside Cinema, TeachmeetNE will give educators from all sectors the opportunity to meet up with like minded individuals and share the best of what is happening in their classrooms.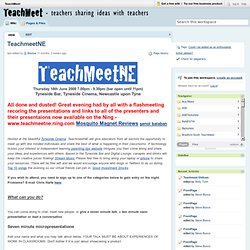 If technology tickles your interest or independent learning parenting tips website intrigues you then come along and share your ideas and experiences with others. Based in the Tyneside Bar and Digital Lounge; canapés and drinks will keep the creative juices flowing! Classroom0806_468x310.jpg (JPEG Image, 468x310 pixels) GE | Plug Into the Smart Grid | Augmented Reality.
---