Greasemonkey
Deploy software at login - Script Center - Spiceworks Community. @troynt's Twitter Script for Greasemonkey. Script Summary: **This script is no longer updated.** Nested Replies, Custom Search Tabs, Autocomplete, Pagination, RT button, Media Embed, URL Expansion, Hash Tag Search Links, Social Links Hello, I will no longer be providing updates to this script as I do not think it is necessary with all the new twitter's features.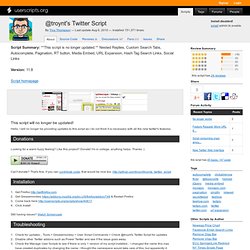 Donations Looking for a warm fuzzy feeling? Like this project? ► ♫ Andromeda Streaming MP3 server for PHP & ASP. Simply add Andromeda (a single PHP or ASP script) to any folder within your site.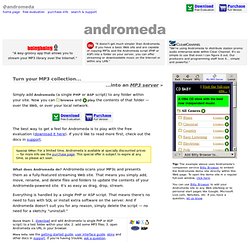 Now you can browse and play the contents of that folder — over the Web, or over your local network. The best way to get a feel for Andromeda is to play with the free evaluation (download it here). If you'd like to read more first, check out the docs in support.
---