Cms
Try LAMS Now! Sign up for a free account for LAMS. You are given access to Author, Monitor and Learner, so you can create, monitor and run sequences to experience the LAMS difference! LMS Integrations LAMS (Learning Activity Management System) is integrated with various Learning Management Systems (LMS) such as Moodle, Blackboard/WebCT, Sakai and .LRN as well as Microsoft Sharepoint. More...
LAMS Foundation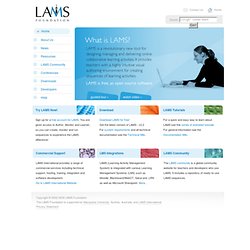 The requested resource is no longer available on this server and there is no forwarding address. Please remove all references to this resource. Segue has been decomissioned as of August 31, 2012 and is permenantly offline. If you believe that you should be given access to content formerly in Segue... If you are faculty: please contact your LIS liaison at go/liaisons All others: please contact the Helpdesk at go/helpdesk
Segue Project Page > Features > About Segue
Bodington is a free open source Virtual Learning Environment/Learning Management System in use at Universities and Colleges worldwide. The Bodington project exists to provide an open source environment to support learning, teaching and research. It is particularly suitable for complex, multi-disciplinary and large organisations and for inter institutional collaboration.
Bodington.org :: Home