Chrome
Must have extensions for Chrome (exc. dev extensions) Oct 15
Turn Off the Lights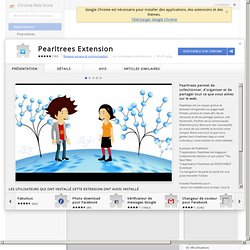 Pearltrees permet de collectionner, d'organiser et de partager tout ce que vous aimez sur le web. Pearltrees est un moyen gratuit et amusant d'organiser vos pages web, fichiers, photos et notes afin de les retrouver et de les partager partout, très facilement. Profitez de la communauté Pearltrees pour découvrir des nouveautés au coeur de vos intérêts et enrichir votre compte. Retrouvez tout ce que vous gardez dans Pearltrees depuis votre ordinateur, votre mobile ou votre tablette. A propos de Pearltrees : "L'application Pearltrees est magique !
Backup and sync your bookmarks and open tabs across computers and browsers. Xmarks is also available for Firefox, Safari and IE. Xmarks is the #1 bookmarking add-on. Xmarks synchronizes across multiple computers, and across web browsers: Chrome, Firefox, Safari and Internet Explorer.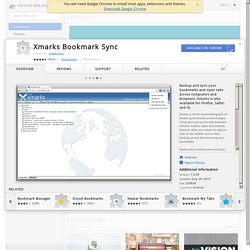 Cloud Save
Amplify
Auto Replay for YouTube
Adds an Auto Replay button in YouTube™ Page. For Issues or Feature requests, mail to: sridhar.pg@gmail.com. --Important. This is not an official extension from YouTube™-- ** 1.9.33 Fix end time reset issue. ** 1.9.32 Fix loading issues. ** 1.9.30 update: Graphics changed. ** 1.9.28 Update: Fixed the recurring HTML5 YouTube™ layout issue. ** 1.9.27 Update: 1) Fixed issues related to YouTube™ page layout changes. 2) Added FeatherLite support. 3) Added Cycles. Users can specify the number of times the video has to be repeated. ** 1.9.26 Update: Fixed issues related to HTML5 control layout. ** 1.9.25 Update: Fixed issues related to HTML5 player ** 1.9.24 Update: Issues with Replaying in new Layout fixed ** ** 1.9.23 Update: Issues with new YouTube™ layout fixed ** ** Issue with HTML5 Player fixed ** ** 1.9.11 update: Code re-factored for easy maintainability.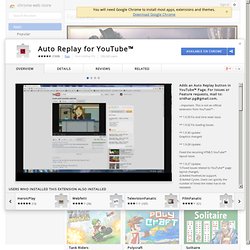 Rapportive
SEO & Website Analysis
Diigo Web
Capturez la page tout ou partie, d'annoter écran, flou informations sensibles, en un seul clic télécharger à part. "1. Capture d'écran en un clic. Couper la partie requise si désirée 2. Annotez-la avec des rectangles, des cercles, des flèeches, des lignes et du texte 3. Utilisez l'efface pour modifier ou cacher de l'information 4.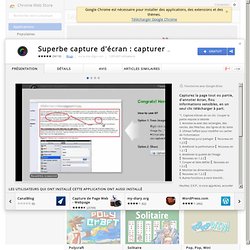 HootSuite Hootlet
BuiltWith Technology Profiler