Centers
Spirit Daily - Daily spiritual news from around the world
Help further fulfill the promise of the Resurrection by supporting our editorial mission! The Easter season is one of my favorite seasons of the year. It is centered on the pure triumph of the work of Christ on the cross and the glory of His redemptive work on our behalf. While so many people spend their time lamenting the sad state of affairs in the Church and the world, we at the Register work hard to do the opposite. Of course, it is a grave matter to ignore the issues we face, which is why we regularly tackle in our coverage the most challenging concerns of our day.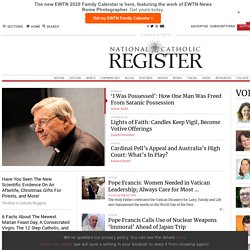 Catholic Exchange
Catholic Culture
Restless "Thou movest us to delight in praising Thee; for Thou hast formed us for Thyself, and our hearts are restless till they find rest in Thee" (St. Augustine, Confessions). I think most writers are naturally introspective and reflective. While in Eucharistic Adoration a week ago I prayed for many things, including strength and courage to […] Employment Challenges and a Closer Walk with Christ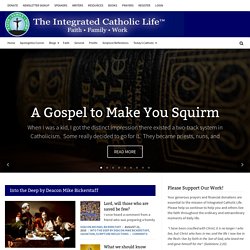 The Integrated Catholic Life | A Catholic e-Magazine about Integrating Faith, Family & Work
CatholicTV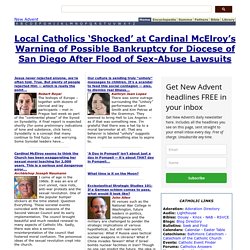 You've gotta see this Wendy's sign... Here's how the Father of Lies operates... Fr. Dwight Longenecker First the Dark Lord tells everyone that marriage doesn't matter. "It's only a piece of paper!"
Catholic news, articles, blogs, books, and more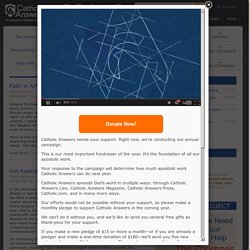 The Lord declares in Isaiah 43:25: I, I am He who blots out your transgressions for my own sake, and I will not remember your sins. Psalm 103:2-3 adds: Bless the Lord, O my soul, and forget not all his benefits, who forgives all your iniquity, who heals all your diseases… Many will use these verses against the idea of confession to a priest.
In the Spotlight NEWSPAPERS WHO "GET" RELIGIOUS FREEDOM — Sister Mary Ann Walsh blogs about recent editorials on the Little Sisters of the Poor challenge of the HHS mandate.WEEK OF PRAYER FOR CHRISTIAN UNITY — The Week of Prayer for Christian Unity has a history of more than 100 years in which Christians around the world have taken part in an octave of prayer for visible Christian unity. Daily Readings Click on dates above to view the Daily Readings.» View Full Calendar © 2014 United States Conference of Catholic Bishops
United States Conference of Catholic Bishops
We Moved! On Saturday, February 8, the Franciscan University Rugby Team and Prince of Peace Household helped the St. Paul Center settle into our new digs.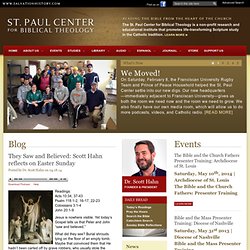 Bible Christian Society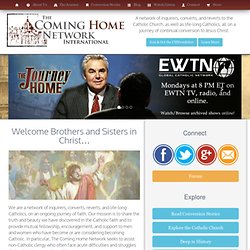 Protestant ministers converting to the Catholic Church - Conversion Stories, Fellowship, Catholic Media
We are a network of inquirers, converts, reverts, and life-long Catholics, on an ongoing journey of faith. Our mission is to share the truth and beauty we have discovered in the Catholic faith and to provide mutual fellowship, encouragement, and support to men and women who have become or are considering becoming Catholic. In particular, The Coming Home Network seeks to assist non-Catholic clergy who often face acute difficulties and struggles during their journeys. Learn More >>