Recipes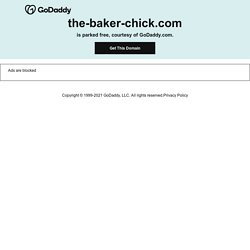 Remember earlier this year when I mentioned I was given the Momofuku Milk Bar Cookbook for Christmas? Well once I paged through it, and saw how challenging and interesting the recipes were, I knew I wanted to make it a goal to tackle them. The recipes all include lots of steps and prep and many ingredients I've never used.
*Milk Bar Mondays* Carrot Cake Truffles | The Baker Chick
Food / Lasagna Soup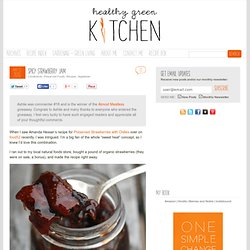 Spicy Strawberry Jam
Ashlie was commenter #18 and is the winner of the Almost Meatless giveaway. Congrats to Ashlie and many thanks to everyone who entered the giveaway.
Little Sabine Design Store
Once again, another find from Pinterest... (I'm willing to bet that most of these recipes will be found on that website) which is where I found the recipe for the MUST TRY, "Taco Cupcakes!" Not only are these Taco Cupcakes fun but they taste amazing too!
Taco "Cupcakes"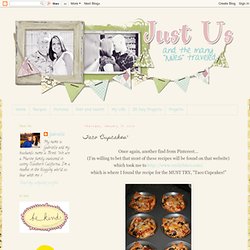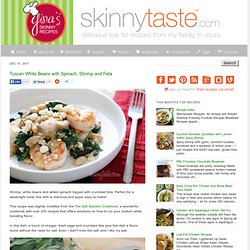 Shrimp, white beans and wilted spinach topped with crumbled feta. Perfect for a weeknight meal, this dish is delicious and super easy to make! This recipe was slightly modified from the The Salt Solution Cookbook , a wonderful cookbook with over 200 recipes that offers solutions on how to cut your sodium while boosting flavor. In this dish, a touch of vinegar, fresh sage and crumbled feta give this dish a flavor boost without the need for salt. Even I didn't miss the salt, and I like my salt. This week, I'm giving away 3 copies of The Salt Solution Cookbook and The Salt Solution , both written by Heather K.
Tuscan White Beans with Spinach, Shrimp and Feta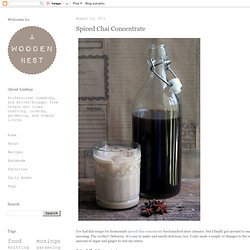 I've had this recipe for homemade spiced chai concentrate bookmarked since January, but I finally got around to making up a batch this morning. The verdict? Delicious.
Breakfast Sandwiches Admin Note: Since this post, I've remade these using a better technique. Be sure to check out my Breakfast Sandwiches Revisited . After I made baked chicken nuggets a few weeks ago and explained my deal with Betsy (if she wants something from McD's, I try to make it for her), I got a few emails saying that the only meal some people will eat at McDonald's is breakfast.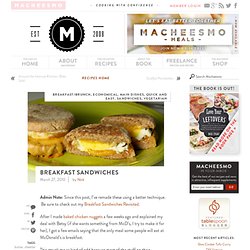 At a Glance: Get Suckered, etc
Because there is so much more than Grape Jelly... - Jam Shop
With spring officially arriving last weekend, this house could pretty much assume that soup would be a rarity for a few months. I'm just not the kind to put a hot pot on the stove during the spring and summer, unless we have some unseasonably cool weather. My husband, on the other hand, would welcome a cup of hot chili or soup almost any day of the year. But just as soon as spring finally decided to peek out, it disappeared. Gone.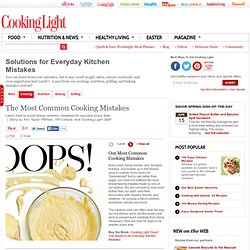 Every cook, being human, errs, bungles, botches, and screws up in the kitchen once in a while. If you have not "caramelized" fruit in salt rather than sugar, you have not suffered the most embarrassing mistake made by one of our editors. We did not have to look much farther than our staff―and their encounters with readers, friends, and relatives―to compile a list of common, avoidable culinary boo-boos.
26 Mother's Day is next weekend! While I know going out to breakfast is a tradition for many families, I thought I'd share a few of my favorite breakfast recipes for those of you who'd like to save some money and eat at home. Breakfast is very inexpensive- especially since you most likely have all of the ingredients on hand.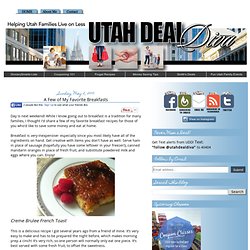 Utah Deal Diva: Helping Utah families live on less!: A Few of My Favorite Breakfasts
Skinnytaste.com / Tuscan White Beans with Spinach, Shrimp and Feta
CINNAMON SUGARED PECANS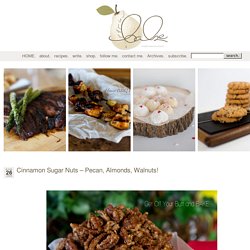 Wednesday, August 26, 2009 For some strange reason, I had an abudance of pecans in my freezer that I needed to use. Usually I make candied almonds, but pecans are also very good. In fact, I think I love every kind of nut! I'm warning you now though, you can't eat just one of these babies and then set the bowl aside.
blueberry & coconut cloud cake « blackjack bakehouse
Sweet Treats & Good Eats: Jelly
Maternity leave has been the best time of my life. Spending 12 weeks, 24 hours a day, with my new son, Judah, has been such bliss that I can't believe it is almost over. It's flown by, and now I return to my full-time job this Thursday. Not only does this mean less time with the love(s) of my life (my husband included), it also means less time to spend on cooking and baking!
April is National Grilled Cheese Sandwich month and that was all the excuse that I needed to try out some new grilled cheese sandwich recipes! Not too long ago, while I was devouring a batch of the ever so addictive jalapeno popper dip , I was thinking about other ways to enjoy that amazing flavour combination and the idea that stuck was the one for a jalapeno popper grilled cheese sandwich. As soon as I had that thought I knew that I would have to try it and this was the perfect time! The basic idea was to incorporate the flavours and textures of jalapeno poppers in a grilled cheese sandwich and the first step was the jalapeno peppers themselves.
How to Make Cheesecake Stuffed Dark Chocolate Cake (with pictures)
Edit Edited by Maluniu, Jordan, Flickety, Zareen and 5 others Oooooooo...... that gooey, dreamy, chocolate cheesecake can now be all yours! Here is a recipe for a cheesecake-stuffed dark chocolate cake.
Today I am posting a recipe for a simple Fluffy Fruit Dip . This dip just so happens to be my kiddos favorite. I previously posted a recipe for a Creamy Caramel Apple Dip a couple weeks back. Well the kids like that dip pretty good too, but the fluffy fruit dip doesn't have any fancy shmancey ingredients so they like it so much better. This recipe is just a plain jane dip of sweet creamy goodness. There are a lot of dips that my kids wont eat so this is fruit dip is a great standby.
Fluffy Fruit Dip and A Dean's Dipstakes
I have been so busy lately. When summer rolls around aren't things supposed to slow down? I guess that is one of the downfalls of being an adult. As a kid I remember my days being filled with nonsense and freedom…glorious freedom.
Nutty Chocolate Dipped Frozen Banana Pops | Budget Gourmet Mom
Blueberry Cheesecake Bars - Pass the Plate Blog
Caramel-Glazed Apple Bread
Grapefruit Cupcakes with Chai Icing | Skinny Chef
Homemade Donuts with Mexican Chocolate Sauce Recipe : Janet Johnston
Brenda's Canadian Kitchen: Boozy Bourbon Chocolate Cupcakes
Red Wine Lollipops
Spicy Beer Mustard Recipe - Jeremy Nolen
coffee rubbed pork roast $7.20 recipe / $1.20 serving
Pea & Shrimp Penne with Basil