Games
Elemental - War of Magic
Elemental
DEMIGOD
Demigod Forums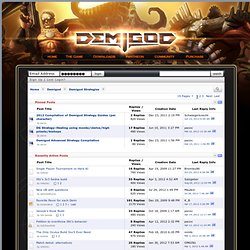 Stardock Magazine | Register | Online Privacy Policy | Terms of Use Copyright © 2013 Stardock Entertainment and Gas Powered Games. Demigod is a trademark of Gas Powered Games. All rights reserved.
Strategy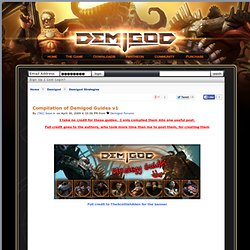 I take no cred i t for these gu i des. I only compiled them into one useful post. Full credit goes to the authors, who took more time than me to post them, for creating them Full credit to TheScottishAlien for the banner Please make all tips in the form of gold bars. Currency fluctuates too much to be worth accepting.
Compilation of Demigod Guides v1 » Forum Post by [TAI] Sean
Simply create an account and download the entire game for free. You will not need to enter in a credit card. Once installed, customize and play a unique hero from 13 classes, 8 races, and thousands of combinations of skills and feats! Play for free for 100s of hours as you delve into the most treacherous dungeons imagined!
DUNGEONS & DRAGONS ONLINE®: Eberron Unlimited™
Adventure Pack review
Mid and High level packs The Ruins of Threnal - 550 points This quest has changed since I last ran it. My advice here is based on my experiences with old Threnal. Youtube video ad: http://www.youtube.com/watch?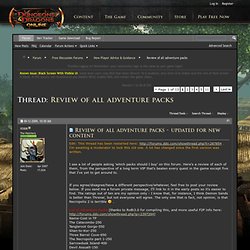 Leveling Guide: Path to Power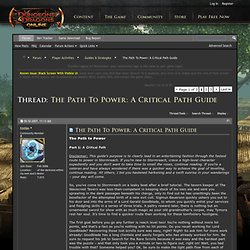 The Path to Power Part 1: A Critical Path Disclaimer: This guide's purpose is to clearly lead in an entertaining fashion through the fastest route to power in Stormreach. If you're new to Stormreach, crave a high-level character expediently and you don't want to take time to smell the roses, continue reading. If you're a veteran and have always wondered if there was a quicker way to achieve the goal of levelling, continue reading.
Builds for New Players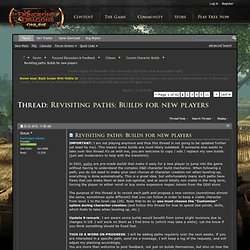 Warchanter (L18 Bard/L1 Fighter/L1 Barbarian) Concept: Bard with decent melee abilities and great buffs, but weak offensive spell-casting (still able to Fascinate for crowd-control though). Original path's flaws: Some combat feats not appropriate to such a build (Cleave, Stunning Blow), waste of a few build points in Cha, trying to get too many skills (resulting in particular in low Concentration) Main fixes: Revised feats and optimized build points and skills to focus on the build's strengths. Splashed one level of barbarian (for proficiencies and to take advantage of the warchanter's raging ability) and one level of fighter (for the extra feat), making it a better combatant. Character generator version: Human (28 pt) Multi-class progression <- click for more info: Create your character as Bard, then take your second level as Barbarian, levels 3 to 9 as Bard, level 10 as Fighter, and finally Bard from 11 to 20.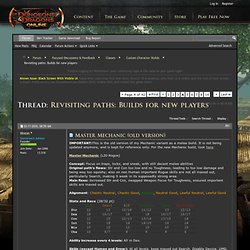 IMPORTANT: This is the old version of my Mechanic variant as a melee build. It is not being updated anymore, and is kept for reference only. For the new Mechanic build, look here Master Mechanic (L20 Rogue)
Mechanic Rog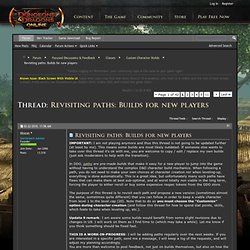 The Font of Healing (L20 Cleric) Concept: Support cleric, with focus on healing, who can also use spells offensively but is weak in melee. Original path's flaws: No Maximize feat to boost offensive spells like Blade Barrier, a couple builds points wasted in Dex, and non Human/Drow version spend more skill points than they should be allowed to (not really a flaw, rather a cheat!) Main fixes: Revised feats and moved some points from Dex to Str, since in the long term they will be more useful to avoid encumbrance issues without a Str item (and in the short term they will help melee at low levels, at the cost of lower AC). Character generator version: Human (28 pt)
Fount of Healing: Cleric
Assassin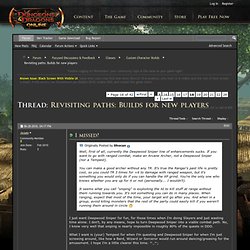 The Dark Blade (L20 Rogue) Concept: Good damage dealer, decent survivability, and of course able to take care of traps and locks. Original path's flaws: No Power Attack (leading to a serious lack of DPS when unable to sneak attack), no Toughness (rogues are somewhat squishy), Weapon Focus instead of Oversized Two-Weapon Fighting (the latter gives an extra +1 to-hit in the common situation of dual wielding non light weapons). Main fixes: Revised feats for better damage output and survivability. Alignment : Chaotic Neutral , Chaotic Good , Neutral , Neutral Good , Lawful Neutral , Lawful Good
Free Online Strategy Game: Warring Factions