Informations / Actualités
Le Monde diplomatique. Home | Mail Online. The incredible tsunami 'wave' that rolled in from the sea and engulfed Florida beach. By Daily Mail Reporter Updated: 09:41 GMT, 12 February 2012 Breathtaking images of 'wave clouds' were captured by a helicopter pilot as they rolled off the sea and inland, completely engulfing a beachfront city.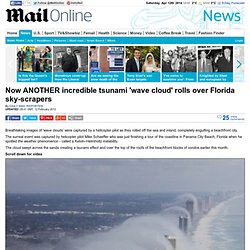 The surreal event was captured by helicopter pilot Mike Schaeffer who was just finishing a tour of the coastline in Panama City Beach, Florida when he spotted the weather phenomenon - called a Kelvin–Helmholtz instability. The cloud swept across the sands creating a tsunami effect and over the top of the roofs of the beachfront blocks of condos earlier this month. Scroll down for video Wave machine: Helicopter pilot Mike Schaeffer spotted this incredible weather phenomenon along the coast of Panama City Beach, Florida.
La Voix du Nord - L'actu à la minute et au quotidien. Droit-finances.net : vos droits et votre argent. RMC. Rue89. TED: Ideas worth spreading. BFMTV - Toute l'info 24/7. EVER MAGAZINE - Art et Cultures, Mode, Politique Internationale, News. Le Nouvel Observateur. BFM Business. Ina.fr.
Presse-citron - L'actualité du Web et des nouvelles technologies. Le monde.
---