Informations / Actualités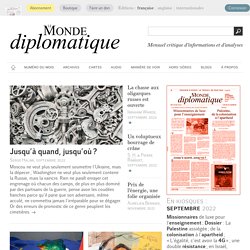 Le temps des jacqueries ; nouvelle bataille du Pacifique autour d'un archipel ; dossier : au grand jeu des nationalités ; la France en Centrafrique ; jours d'après-guerre au Congo ; Irak-Syrie, mêmes combats ; le monde selon Téhéran ; le Paraguay dévoré par le soja ; tourisme chamanique en Amazonie péruvienne ; « Lune Lenvers », extrait d'une bande dessinée de Blutch ; le rendez-vous manqué de la gauche et de la politique locale ; comment l'obsession sécuritaire fait muter la démocratie ; partitions (ex-)yougoslaves ; l'énergie verte, voilà l'ennemi ; supplément couverture santé universelle.
Frank Cattrall, 62, said the hole in the road ruined his Renault's suspension, but when Essex County Council denied responsibility, he said out to prove them wrong. The retiree, from Colchester, obtained information under the Freedom of Information Act that showed that the large pothole had been reported to the council three months beforehand. Armed with details, he took the council to the small claims court and now a judge at Colchester County Court has ordered the council to pay for the car repairs and Mr Cattrall's costs.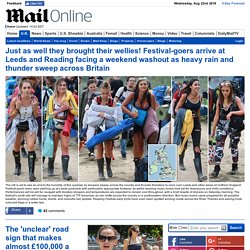 By Daily Mail Reporter Updated: 09:41 GMT, 12 February 2012 Breathtaking images of 'wave clouds' were captured by a helicopter pilot as they rolled off the sea and inland, completely engulfing a beachfront city. The surreal event was captured by helicopter pilot Mike Schaeffer who was just finishing a tour of the coastline in Panama City Beach, Florida when he spotted the weather phenomenon - called a Kelvin–Helmholtz instability. The cloud swept across the sands creating a tsunami effect and over the top of the roofs of the beachfront blocks of condos earlier this month. Scroll down for video Wave machine: Helicopter pilot Mike Schaeffer spotted this incredible weather phenomenon along the coast of Panama City Beach, Florida
The incredible tsunami 'wave' that rolled in from the sea and engulfed Florida beach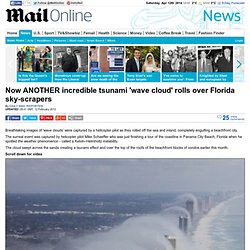 Melinda Gates and Bill Gates Why giving away our wealth has been the most satisfying thing we've done In 1993, Bill and Melinda Gates—then engaged—took a walk on a beach in Zanzibar, and made a bold decision on how they would make sure that their wealth from Microsoft went back into society. In a conversation with Chris Anderson, the couple talks about their work at the Bill & Melinda Gates Foundation, as well as about their marriage, their children, their failures and the satisfaction of giving most of their wealth away.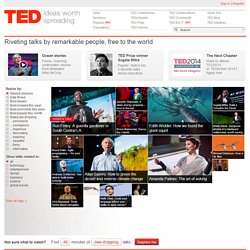 EVER MAGAZINE - Art et Cultures, Mode, Politique Internationale, News.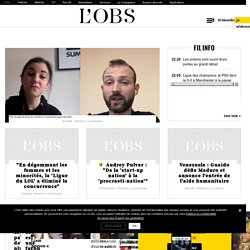 La compagne de François Hollande a été admise à l'hôpital vendredi après-midi, selon l'Elysée. Elle serait très éprouvée par les révélations au sujet de la liaison prêtée au chef de l'Etat avec l'actrice Julie Gayet. L'ancien général et Premier ministre israélien n'était pas moins brutal, changeant, déroutant et cynique, en politique comme à la guerre. L'empire du Milieu a l'ambition de devenir une grande puissance biotechnologique. Et son fleuron, le Beijing Genomics Institute, veut séquencer l'ADN des surdoués... L'humoriste a-t-il eu raison d'en remettre une couche sur Dieudonné ?
Jeu Web de la Semaine : Don't Escape 5 avril 2014 :: 14:15 :: Par Axel-Cereloz Jeu vidéo : 30ème épisode de la rubrique (presque) hebdomadaire : le jeu web de la semaine.
Huit candidats briguent la succession d'Hamid Karzaï lors d'un scrutin compromis par l'insécurité et la fraude. A Mantes-la-Ville, « ce n'est pas du racisme, mais du ras le bol » Dans cette commune de 20 000 habitants d'Ile-de-France, le conflit entre les deux candidats de gauche a permis au FN de l'emporter. afficher la suite des articles