Fun and arts
Let the Words Flow - FictionPress.com.
TV shows
Unleash Your Imagination. Ice of the Kitsune's Fire. Author has written 58 stories for Inuyasha, Beauty Pop, D.Gray-Man, Pokémon, Soul Eater, Naruto, Fairy Tail, and Shingeki no Kyojin/進撃の巨人.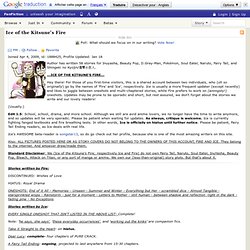 Hey there! For those of you first-time visitors, this is a shared account between two individuals, who (oh so originally) go by the names of 'Fire' and 'Ice', respectively. Ice is usually a more frequent updater (except recently) and likes to juggle between oneshots and multi-chaptered stories, while Fire prefers to work on (annngsty!) Manga Fox - Read Manga Online for Free! Where ART meets application!
---