Twitter Applications
Twitter / Authorize an application. TwitFriday | Welcome. Twtvite :: create and find Tweetups in your town. Jean-Michel Lasne (fanta78. FriendOrFollow.com - Who's not following you back? Who aren't yo. Auto Follow Friday by @mrboo. Ne plus suivre les utilisateurs qui ne vous suivent pas! More followers on twitter - free. Seesmic.
Seesmic has been acquired by HootSuite and as of March 2013, the Seesmic website is no longer supported.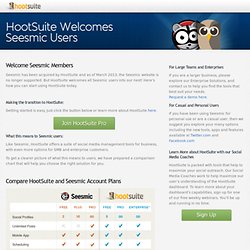 But HootSuite welcomes all Seesmic users into our nest! Here's how you can start using HootSuite today. Making the transition to HootSuite: Getting started is easy. Bettween | Easily Track and Share Conversations on Twitter. Tweetizen - Easy Twitter Groups. Monitter : real time, live twitter monitor | free live twitter e. Packrati.us = Twitter + Delicious. Twistory. Trendsmap - Real-time local Twitter trends.
Wordpress. Analyticly - PeopleBrowsr.com. "We're an online marketing agency with a strong focus on ROI and clients in several industries and countries.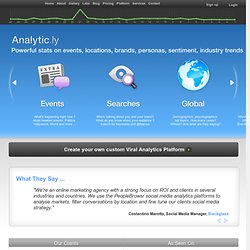 We use the PeopleBrowsr social media analytics platforms to analyse markets, filter conversations by location and fine tune our clients social media strategy. " Costantino Marotta, Social Media Manager, Blackglass "Very impressed with the PeopleBrowsr team - Experienced, results focused, smart technology....would recommend to my friends..... All 50,000+ of them! " "I've been working with the PeopleBrowsr team for more than 12 months.... awesome technology...they are sharp, knowledgable and even fun to work with" Derek Rey, Vice President Of Media & Sales, ADLY "We have worked with PeopleBrowsr for two years now. The Twitter Times. The Twitter Times: fanta78.
---