Profils and backups management
Neiio
Increase reactivity Do not lose any information about your prospect and anticipate changing context. More info click here What is « Sales Intelligence » ? Sales Intelligence is a powerful tool, which cracks the DNA of your customers and find new qualified leads for you.
To look at my grades in school you'd never make me out to be a history fan. In school I never really understood what importance those "old time stories" had to do with the amazing places my life was going to go until it got there. Somewhere along the way I got curious.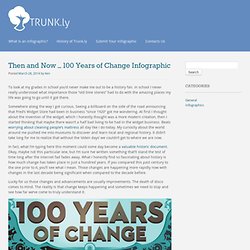 dodgit - free. receive-only. email. no set up. rss.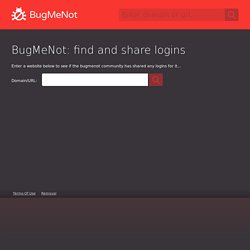 bugmenot.com Bugmenot.com - login with these free web passwords to bypass compulsory registration Menu Most Popular
Account
your profile everywhere
Connect your Conversations - Silentale
Avec la multiplication des plateformes sociales, il devient de plus en plus compliqué de gérer les conversations et les traces que vous laissez. Pire, si un service que vous utilisez ferme ses portes, vous perdez l'historique des interactions sociales qui étaient hébergées dessus. C'est là où intervient Silentale, une startup française (cocorico !) qui a reçu le prix du public lors de l'édition 2008 de LeWeb (Arg ! Mais comment ça se prononce ?).
Médias sociaux > Archivez votre présence sur les médias sociaux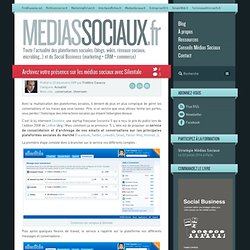 Secure Online Backup and Archiving for Gmail, Facebook, Twitter,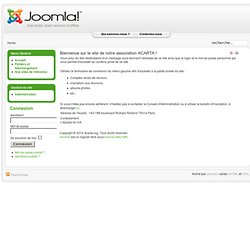 Google : sauvegardez vos fichiers dans les nuages
Vous avez du être destinataire d'un message vous donnant l'adresse de ce site ainsi que le login et le mot de passe personnel qui vous permet d'accéder au contenu privé de ce site. Utilisez le formulaire de connexion du menu gauche afin d'accéder à la partie privée du site : Comptes rendu de réunion, inscription aux réunions, albums photos etc... Si vous n'êtes pas encore adhérent n'hésitez pas à contacter le Conseil d'Administration ou à utiliser le bulletin d'inscription, à télécharger ici.
SocialOomph.com