Sci/Tech Media
Science
Science News
Megafloods: What They Leave Behind South-central Idaho and the surface of Mars have an interesting geological feature in common: amphitheater-headed canyons. Researchers offer a plausible account that all these canyons were created by enormous floods. ... > full story Image Perception in the Blink of an Eye Imagine seeing a dozen pictures flash by in a fraction of a second. You might think it would be impossible to identify any images you see for such a short time.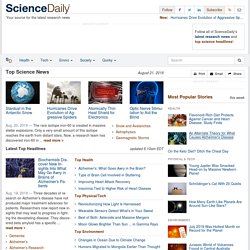 Science Daily: News & Articles in Science, Health, Environment & Technology
Popular Science | New Technology, Science News, The Future Now
NOVA Energy LabHelp design energy systems that meet demand and save the greatest amount of carbon emissions for the least amount of moneyAstro Drone Crowdsourcing GameIf you own a Parrot AR.Drone Quadricopter, you can participate in the European Space Agency's (ESA) Astro Drone crowdsourcing game to help improve robot visionWeddell Seal Population CountHelp scientists in the field monitor the Weddell seal population in McMurdo Sound, Antarctica
Science News, Articles and Information | Scientific American
IEEE Spectrum: Technology, Engineering, and Science News
PhysOrg.com - Science News, Technology, Physics, Nanotechnology, Space Science, Earth Science, Medicine
More Science News Stories A new research, conducted over a period of ten years in Mojave Desert, has found that arid areas absorb an unexpectedly large amount of carbon as levels of carbon dioxide increase in the atmosphere.... One key element of retirement planning is taking required minimum distributions from retirement accounts. RMD rules govern how much you must withdraw from certain retirement accounts and when you must start taking withdrawals.
Science News from WN Network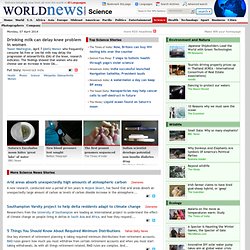 Science news and science jobs from New Scientist
Cookies on the New Scientist website close Our website uses cookies, which are small text files that are widely used in order to make websites work more effectively.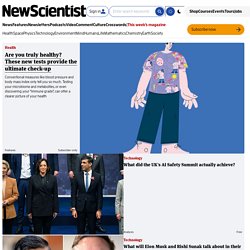 Singularity Hub | The Future Is Here Today…Robotics, Genetics, AI, Longevity, The Brain…
SEEDMAGAZINE.COM
Inventions and Ideas from Science Fiction Books and Movies at Technovelgy.com
Technology Review: The Authority on the Future of Technology
Motherboard | Science. Technology. Design. Culture.
Ars Technica
Monday - April 7, 2014 One thing that Apple made clear when it took the smartphone market by storm and away from then-dominant players Palm, BlackBerry and Microsoft is that to win you need to make big bets and change the battle. The market is now dominated by Apple and Google technology -- much of which Google doesn't control -- and Microsoft just swapped CEOs because the old CEO couldn't pull the needed rabbit out of his hat. Well Microsoft caught a number of us by surprise and actually announced some really interesting stuff at its Build conference last week.[More...] Friday - April 4, 2014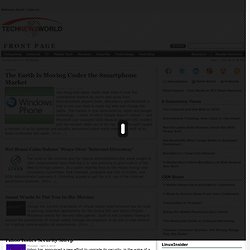 All Tech - All The Time
The line between the consumers and producers of commercial objects is increasingly becoming blurred in the 21st century. As an economic imperative for consumer participation is quickly emerging, more than ever before businesses are turning to consumers to guide their creative decisions. Crucially this could begin to have a significant impact on the way that cities and their commercial architecture is designed and evaluated, through the promotion of consumers as direct, collective decision makers. Referring to key economic theorists; the work of contemporary architectural practitioners; while additionally including first hand interaction with one of the world's most successful prosumption communities, this essay attempts to construct an argument for the value of consumer involvement in the active design of 21st century commercial architecture.
H+ Magazine | Covering technological, scientific, and cultural trends that are changing–and will change–human beings in fundamental ways.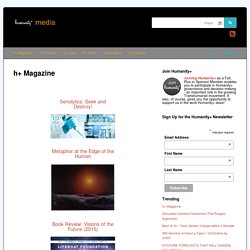 Technology News, Analysis, Comments and Product Reviews for IT Professionals
Technology News, Industry Analysis, Market Research Reports
We have updated our privacy policy. In the latest update it explains what cookies are and how we use them on our site. To learn more about cookies and their benefits, please view our privacy policy. Please be aware that parts of this site will not function correctly if you disable cookies.
Wired.com
DVICE
TechEye - All the latest technology news unfit for print
Engadget
The 1 percent have long had smartphones from Porsche and Vertu to quench their high-end thirst, but when it comes to dual-SIM handsets, the elite have had to settle for something a little more ordinary. For those in need, Gresso created Azimuth, the first dual-SIM luxury handset. Starting at $2,000, the phone is made of titanium, with both the keys and logo crafted out of 18K or white gold. Since appearances are all that matter, you're getting some pretty low-end specs under the hood, including 2GB of "internal memory," a 1.3-megapixel camera, Bluetooth 2.0 and a tiny 1,100mAh battery. To put things in perspective, Samsung's Galaxy S5 starts with 16GB of built-in storage, a 16-megapixel camera and a 2,800mAh battery. The difference being, anyone can buy an S5.
Slashdot: News for nerds, stuff that matters
io9. We come from the future.
Greetings, loyal readers of me reading other people's mail! I had a weird occurrence the other day — I finally got a letter that I couldn't deliver. I have no idea how this is the first time that this has come up, it being the post-apocalypse and all, but there it was. The letter had a return address on it, so I knew immediately what I had to do — burn it. New postal rule: No backsies.