Resources
Mobile Childcare Search - Childcare Search
5th Grade Lesson Plans - K-6 Elementary Education
Free 5th grade math worksheets. Randomly generated, printable from your browser!
Fractions & Decimals lesson plans for elementary school teachers including activities, programs, thematic units, and skills curriculum resources
Fractions - Teaching all the various facets of fractions, can be very challenging. This is a collection contains a wide variety of of ideas and printables that teachers can use to help their students more fully understand these concepts. source decimals - I have taught third,fourth, and fifth grades, and They all have learned decimals this one particular way I teach it.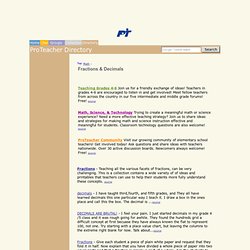 Decimals Lesson Plans - LessonCorner
Decimals Worksheets and Printables
See All of Our Games | HighlightsKids.com
Why send kids to Kumon or other coaching classes? (Fairfax: fit in, buying)
Can someone please explain to me the obssession parents have with sending their kids (as young as Elementary School-ers) to Kumon? If Fairfax County schools are good, what's wrong with learning just the Math, English, etc. curriculum that they are teaching in the respective grades? I have interacted with so many parents who have told me that their kids hate going to Kumon but they have to send them because everybody else in the class goes to Kumon. My wife and I share the philosophy that life outside of school should be spent learning and enjoying things that are not taught in school... ...maybe equestrian, golf, drums, hiking, etc. Other parents have argued that their kids do those things but also go to Kumon, and my response is, "Yes, but your kid absolutely hates those 1-2 hours they are spending in Kumon. Wouldn't that time be better spent playing a board game or reading with your kid?"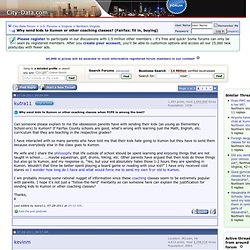 The Secular Homeschool Community - The Secular Homeschool Community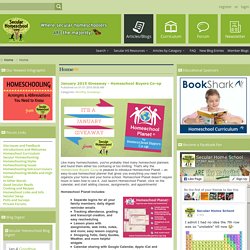 Ok, can't get a weekly poll much closer to the start of a New Year than starting it on day 2! Happy New Year everyone! 2014! WOW!!!
Sex Offender and Crimes Against Minors Registry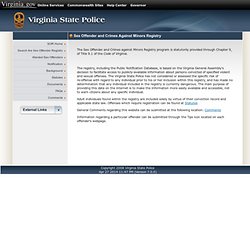 The registry, including the Public Notification Database, is based on the Virginia General Assembly's decision to facilitate access to publicly-available information about persons convicted of specified violent and sexual offenses. The Virginia State Police has not considered or assessed the specific risk of re-offense with regard to any individual prior to his or her inclusion within this registry, and has made no determination that any individual included in the registry is currently dangerous. The main purpose of providing this data on the internet is to make the information more easily available and accessible, not to warn citizens about any specific individual. Adult individuals found within the registry are included solely by virtue of their conviction record and applicable state law.