NOVA Grocery Chains
OCA is happy to announce the formation of a new national distribution service for home delivery of organic and non-GMO foods, at 30-50% below the cost of retail, with free shipping on orders of $150 or more. The new national distribution club is called the Green Polka Dot Box ("GPDB"). When GPDB opens in late September, it will be offering annual "Club" ($50) and "Reward" ($125) memberships. Prior to launch, however, the OCA, OCA Director Ronnie Cummins, and hundreds of allies are purchasing "Founding Trust Memberships" (essentially pre-paying for the first $2000 worth of purchases) to provide initial operating capital before the GPDB formally opens for business.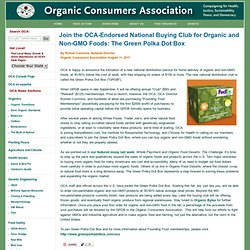 Join the OCA-Endorsed National Buying Club for Organic and Non-GMO Foods: The Green Polka Dot Box
Gaia Health has made the point that genuine organic good cannot be produced on a mass scale. Organic farming is inherently conflicted with Agribusiness. That's why corporations like Whole Foods Market, Stonyfield Farms, and Organic Valley cannot be considered legitimate organic producers. The truth of that is shown as the Big Three of Faux Organics tell us that we must coexist with Monsanto's genetically modified poisons! The USDA recently deregulated genetically modified alfalfa. That means it can now be planted with impunity.
The Big Guys of Faux Organics Are Cramming Coexistence with GMOs Down Our Throats
Safeway
Wegmans
Giant
Magruder's Supermarket
Bloom
Trader Joe's
Harris Teeter - Your Neighborhood Food Market
Cooking a good meal at home doesn't have to be difficult, especially when we've taken all the guesswork out of meal planning for you. Make these recipes for dinner this week! Mushroom and Tempeh Pizzas Tuna Salad Niçoise Hearty Lentil and Sausage... Passover can be tricky when it comes to desserts. Most traditional recipes aren't an option, making it the perfect time to spotlight recipes that feature nuts, fruit and chocolate, rather than flours and dairy.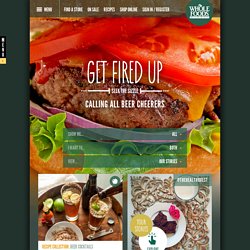 Whole Foods Mobile
Balducci's - Balduccis - Food Lover's Market
Healthway Natural Foods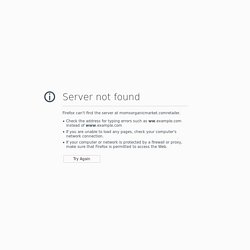 In exchange for old lights, MOM's customers at all locations will receive a coupon good for 15% off energy efficient decorative lighting at HolidayLEDs.com! MOM's will be a pick-up location for Even' Star Organic Farm and Lancaster Farm Fresh Co-Op CSA this winter! Last year, MOM's offset 9,656.86 metric tons of carbon dioxide through TerraPass Your Gas. That's the equilvalent of eliminating greenhouse emissions from 2,012 passenger vehicles! More
MOM's Organic Market
Why is this item marked as FSA Eligible?This item is marked with the following icon as FSA eligible to identify that it MAY be purchased using a Flexible Spending Account (FSA): ✔ FSA Eligible Item What is a Flexible Spending Account (FSA)?A FSA (Flexible Spending Account) allows use of the funds an individual has designated to be set aside pre-tax for medical expenses, typically with their employer, when selecting healthcare programs during the previous year.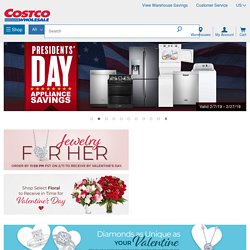 BJ's Wholesale Club
Sterling Sam's Club #4729