NOVA Grocery Chains
Join the OCA-Endorsed National Buying Club for Organic and Non-GMO Foods: The Green Polka Dot Box. OCA is happy to announce the formation of a new national distribution service for home delivery of organic and non-GMO foods, at 30-50% below the cost of retail, with free shipping on orders of $150 or more.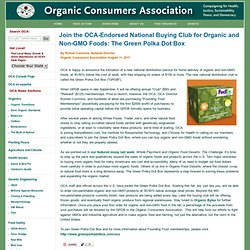 The new national distribution club is called the Green Polka Dot Box ("GPDB"). When GPDB opens in late September, it will be offering annual "Club" ($50) and "Reward" ($125) memberships. Prior to launch, however, the OCA, OCA Director Ronnie Cummins, and hundreds of allies are purchasing "Founding Trust Memberships" (essentially pre-paying for the first $2000 worth of purchases) to provide initial operating capital before the GPDB formally opens for business.
The Big Guys of Faux Organics Are Cramming Coexistence with GMOs Down Our Throats. Gaia Health has made the point that genuine organic good cannot be produced on a mass scale.
Organic farming is inherently conflicted with Agribusiness. That's why corporations like Whole Foods Market, Stonyfield Farms, and Organic Valley cannot be considered legitimate organic producers. The truth of that is shown as the Big Three of Faux Organics tell us that we must coexist with Monsanto's genetically modified poisons! The USDA recently deregulated genetically modified alfalfa. That means it can now be planted with impunity. Welcome to the Green PolkaDot Box™ Safeway. Wegmans. Giant. Magruder's Supermarket. Bloom. Trader Joe's. Harris Teeter - Your Neighborhood Food Market. Whole Foods Mobile. Balducci's - Balduccis - Food Lover's Market. Healthway Natural Foods. MOM's Organic Market. Offering thousands of items you won't find in your local Costco. BJ's Wholesale Club.
Sterling Sam's Club #4729.
---