Fairfax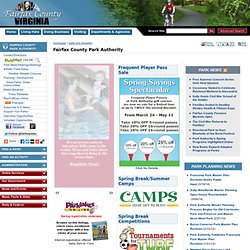 There's no question that the things I loved most about parks as a child growing up in Herndon, Va. sparked my interest in what ultimately became my career path – animal science. I remember visiting Frying Pan Farm Park as a young child and seeing something new with every visit. There were the baby animals on one visit, and I would marvel at how much they had grown on the next visit. There were also freshly plowed fields, followed later by young crops and ultimately the harvest. Each discovery sparked wonder, and I looked forward to each visit with excitement.
Fairfax County Park Authority 
Nature Centers - Hidden Oaks, Hidden Pond, Huntley Meadows, Riverbend, Walney, Ellanor C. Lawrence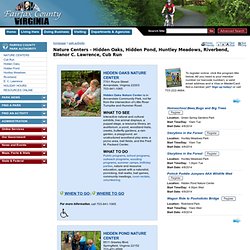 HIDDEN OAKS NATURE CENTER is located at 7701 Royce Street in Annandale. Inside the nature center visitors will find natural and cultural history exhibits, a library, and an auditorium. A naturalist is always available during operating hours to answer questions. The surrounding park features a nature trail, a playground, picnic shelter, ballfields, and the Fred M.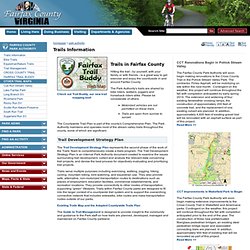 Trails in Fairfax County
Hitting the trail - by yourself, with your family or with friends - is a great way to get exercise and enjoy the countryside in and around Fairfax County. The Park Authority's trails are shared by bike riders, walkers, joggers and horseback riders alike. Please be considerate of others. Motorized vehicles are not permitted on these trails.
Park Locator, Fairfax County Park Authority
Bike Pages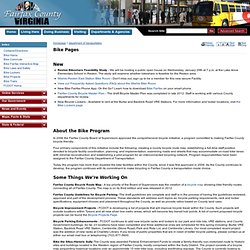 Bike to Work Day is Friday, May 18! - Learn more about biking to work and the pit stops in Fairfax County. Bike Benefit Match Program - Fairfax County will provide employers with financial assistance to implement an employee bike program! Bicycle lockers added at the Sunset Hills Park and Ride lot and the Reston South Park and Ride lot. Fairfax County Bicycle Master Plan - View plans and additional information. Gallows Road to Become Bicycle Friendly!
Fairfax County Bicycle Map 
Click on a map tile below to enlarge. You can obtain a free copy of the print version of this map at a variety of locations around the County including local bike shops, the information desk at the Fairfax County Government Center, any district supervisor's office, and the Fairfax County Department of Transportation office. For any of these locations we recommend calling ahead to check to see if they have printed versions in stock.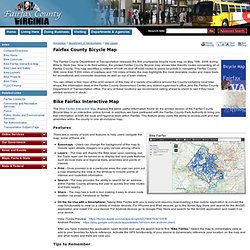 Skip to: Page Content | Main Navigation | Government Navigation | "E" Services Navigation | Accessibility Information | Page Footer Return to Graphic Version Fairfax County Virginia Online Services
Maps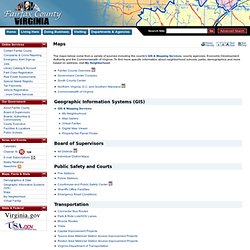 Fairfax County - Virginia Zip Code Boundary Map (VA)
Fairfax County Zip Code Data 
Main
Fairfax County Property Search
Real Estate Tax 
Fairfax Circuit Court and Records 
Fairfax Virginia Grand Jury Indictment Attorneys | Fairfax Virginia Grand Jury Indictment Attorney - LawInfo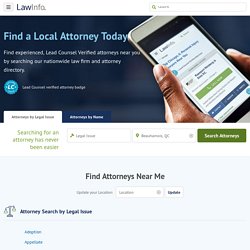 Are you searching for attorneys with high levels of Criminal Law experience in Fairfax, VA?
Skip to: Page Content | Main Navigation | Government Navigation | "E" Services Navigation | Accessibility Information | Page Footer Return to Graphic Version Fairfax County Virginia Related Links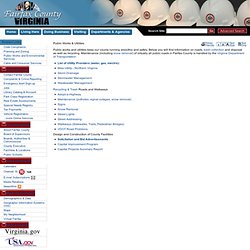 Public Works & Utilities 
Planning Commission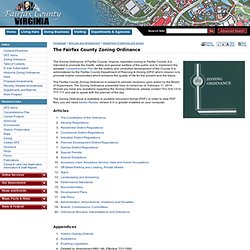 Zoning Ordinance 
The Fairfax County Zoning Ordinance is subject to periodic revisions upon action by the Board of Supervisors. The Zoning Ordinance presented here is current as of November 20, 2012 . Should you have any questions regarding the Zoning Ordinance, please contact 703-324-1314, TTY 711 and ask to speak with the planner of the day.
Miss Utility Miss Utility is the organization that coordinates the marking of utility lines to prevent them from being damaged by excavation or demolition work. Virginia's Underground Utility Damage Prevention Act requires that everyone, including homeowners, must call Miss Utility (Dial 811 in Virginia, or 1-800-552-7001) 48 hours before performing the work. After 48 hours, a second call must be made to Miss Utility's Ticket Information Exchange (TIE) to determine whether all utilities have reported their lines either marked or clear. An additional 24-hours could be required for all locations to be reported.
Fairfax Water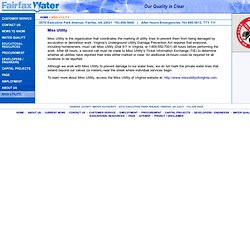 Miss Utility of Virginia | Always call 811 before you dig in Virginia.
Board of Supervisors 
Bipartisan Election Commission Returns Recommendations on How to Reduce Election Day Wait Times in Fairfax County March 19, 2013 – "I am pleased that the Election Commission has completed its work," Chairman Bulova said. "It is important that the County implement measures to reduce long lines, decrease wait times, and streamline the election process in Fairfax County. The Commission has identified a variety of improvements... to ensure access and convenience for voters in future elections." Chairman Bulova talks Budget, Economic Uncertainty, and Va. Transportation Bill on Channel 8's NewsTalk March 13, 2013 – Chairman Bulova sits down with Brianne Carter to discuss the state of the Northern Virginia economy and the Fairfax County FY 2014 Budget.
Chairman Sharon Bulova 
Departments & Agencies 
Agency Search
NOTE: Any e-mail or other correspondence sent to a member of the Board of Supervisors, or any other public official and/or employee of Fairfax County in the transaction of public business is considered a public record, and such records are subject to the Virginia Freedom of Information Act. This means that Virginia law generally requires the County to provide a copy of any such e-mail, upon request, for inspection and copying to any citizen of the Commonwealth or to any member of the news media.
Fairfax County Org Chart
Fairfax County Public Schools
New Today: (4/1/13) Have a car, computer, musical instrument that you'd like to donate? Donate to FCPS . Survey on FCPS Efficiency
The fifth-grade standards place emphasis on number sense with whole numbers, fractions, and decimals. This focus includes concepts of prime and composite numbers, identifying even and odd numbers, and solving problems using order of operations for positive whole numbers. Students will develop proficiency in the use of fractions and decimals to solve problems. Students will collect, display, and analyze data in a variety of ways and solve probability problems, using a sample space or tree diagram.
Program of Studies
Select Language Google Translation Disclaimer Search:
Instructional Services Department
Fairfax County Public Schools - Find Your School
Fairfax County Public Schools - School Board
Fairfax County Police Department 
Contact / Directions 
Report a Crime