Presentation
There may be times when you need to present ideas to clients or co-workers and could benefit from one of the many resources for creating online presentations. In this post we'll introduce 14 different presentation tools to get the job done. Some are free to use while others will come with a cost. Online Presentation Tools: 280 Slides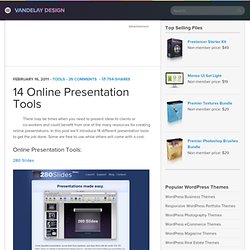 14 Online Presentation Tools
Forget PowerPoint: 13 Online Presentation Apps
We've helped you find online word processors and spreadsheet apps, now it's time for presentations. We've gathered up 13 online presentation creators to make it even easier for you to forget about doing anything offline ever again! AjaxPresents - Presentation software portion of the Ajax13 office suite. Works with Firefox 1.5 and higher, free, and can import & export from PowerPoint and OpenOffice.
12 Top Notch Online Presentation Tools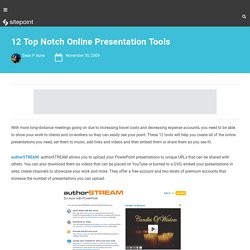 With more long-distance meetings going on due to increasing travel costs and decreasing expense accounts, you need to be able to show your work to clients and co-workers so they can easily see your point. These 12 tools will help you create all of the online presentations you need, set them to music, add links and videos and then embed them or share them as you see fit. authorSTREAM: authorSTREAM allows you to upload your PowerPoint presentations to unique URLs that can be shared with others. You can also download them as videos that can be placed on YouTube or burned to a DVD, embed your presentations in sites, create channels to showcase your work and more. They offer a free account and two levels of premium accounts that increase the number of presentations you can upload. BrinkPad: BrinkPad is a Java-based presentation creator that allows you to save your finished work to the Web, save to disk, save as JPGs and more.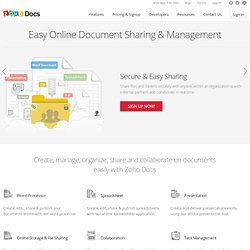 Cost-Effective You don't have to install or maintain hardware and software and reasonably priced subscription plans lead to more cost savings.