Groupon
Camille Styles :: Citrus Brunch…on coco+kelley! Groupon and the Online Deal Revolution. While the vast majority of coupons are still clipped from Sunday newspaper inserts, digital coupon usage is growing rapidly.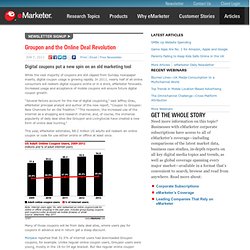 In 2011, nearly half of all online consumers will redeem digital coupons online or in a store, eMarketer forecasts. Increased usage and acceptance of mobile coupons will ensure future digital coupon growth. "Several factors account for the rise of digital couponing," said Jeffrey Grau, eMarketer principal analyst and author of the new report, "Coupon to Groupon: New Channels for an Old Tradition." "The recession, the increased use of the internet as a shopping and research channel, and, of course, the immense popularity of daily deal sites like Groupon and LivingSocial have created a new form of online deal hunting." How Social Shoppers Share Local Deals. Growth in daily deal site usage is still rapid, according to April 2011 site rankings from Compete.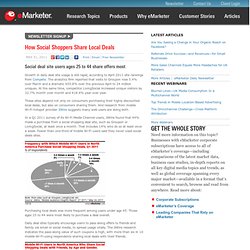 The analytics firm reported that visits to Groupon rose 5.4% over March and a dramatic 655.8% over the previous April to 24 million uniques. At the same time, competitor LivingSocial increased unique visitors by 32.7% month over month and 418.4% year over year. These sites depend not only on consumers purchasing their highly discounted local deals, but also on consumers sharing them. And research from mobile Wi-Fi hotspot provider JiWire suggests many web users are doing both. In a Q1 2011 survey of its Wi-Fi Media Channel users, JiWire found that 44% made a purchase from a social shopping deal site, such as Groupon or LivingSocial, at least once a month. Why Daily Deals Are Becoming A Raw Deal. Editor's note:This guest post was written by Rocky Agrawal is an entrepreneur who has worked on local products since 1995.He blogs at reDesign and Tweets @rakeshlobster.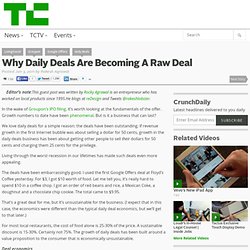 In the wake of Groupon's IPO filing, it's worth looking at the fundamentals of the offer. Growth numbers to date have been phenomenal. But is it a business that can last? We love daily deals for a simple reason: the deals have been outstanding. Half Price Toledo: Merchant Account Terms and Conditions. By accessing and using Groupon's services through your Merchant Account (as defined below), you agree to the following terms and conditions and any policies, guidelines or amendments thereto that may be presented to you from time to time (collectively, the "Terms").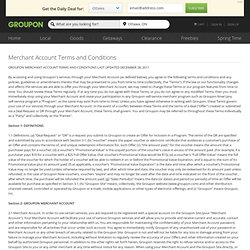 If the law or our functionality changes and affects the services we are able to offer you through your Merchant Account, we may need to change these Terms or our program features from time to time. You should review these Terms regularly. If at any time you do not agree with these Terms, or you do not agree to any modified Terms, then you must immediately stop using your Merchant Account and cease your participation in any Groupon self-service merchant program such as Groupon Now! (any self-service program a "Program", as the same may exist from time to time). Congrats on your upcoming Groupon feature! Getting to Know Each Other Use our Deal Builder tool or tell your Groupon representative about your business and goals.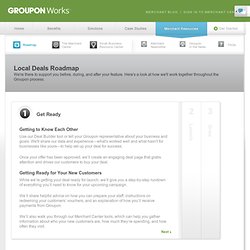 We'll share our data and experience—what's worked well and what hasn't for businesses like yours—to help set up your deal for success. Once your offer has been approved, we'll create an engaging deal page that grabs attention and drives our customers to buy your deal. Getting Ready for Your New Customers While we're getting your deal ready for launch, we'll give you a step-by-step rundown of everything you'll need to know for your upcoming campaign.
---