Margarine
Spread (food)
Margarine ( i / ˈ m ɑr dʒ ər ɨ n / , / ˈ m ɑr ɡ ər ɨ n / , / ˈ m ɑr dʒ r ɨ n / , or / ˈ m ɑr dʒ ər iː n / ) is a semi-solid emulsion composed mainly of hydrogenated or refined vegetable fats and water. While butter is derived from milk fat, margarine is mainly derived from plant oils and fats and may contain some skimmed milk . In some locales it is colloquially referred to as oleo , short for oleomargarine .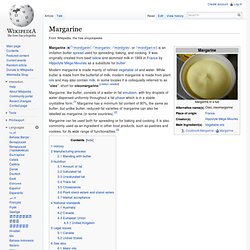 Margarine
Margarine
Yeasts and Molds | Spoilage Molds in Dairy Products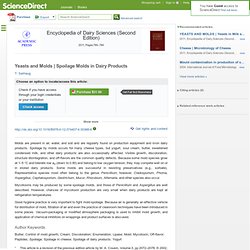 Introduction Molds Involved in the Spoilage of Dairy Products Control of Mold Growth in Dairy Products Toxic Metabolites Produced by Molds in Dairy Products Enumeration of Molds from Dairy Products See also
MARGARINE AND BACTERIAL INFECTION
1. Introduction 2.
Viability of Salmonella, Escherichia coli O157:H7, and Listeria monocytogenes in butter, yellow fat spreads, and margarine as affected by temperature and physical abuse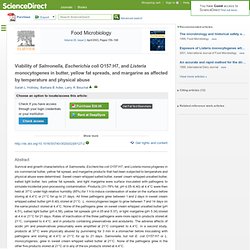 Butter at the Borough Market, London Butter is a dairy product made by churning fresh or fermented cream or milk . It is generally used as a spread and a condiment , as well as in cooking , such as baking, sauce making, and pan frying . Butter consists of butterfat , milk proteins and water. Most frequently made from cows ' milk, butter can also be manufactured from the milk of other mammals , including sheep , goats , buffalo , and yaks . Salt , flavorings and preservatives are sometimes added to butter.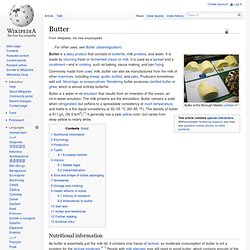 Butter