Margarine
Spread (food) Margarine. Margarine ( Modern margarine is made mainly of refined vegetable oil and water.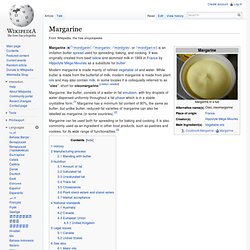 While butter is made from the butterfat of milk, modern margarine is made from plant oils and may also contain milk. In some locales it is colloquially referred to as "oleo", short for oleomargarine. Margarine. Yeasts and Molds | Spoilage Molds in Dairy Products. Molds are present in air, water, and soil and are regularly found on production equipment and in/on dairy products.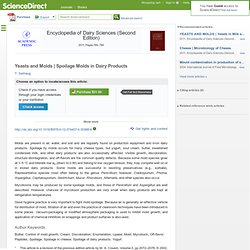 Spoilage by molds occurs for many cheese types, but yogurt, sour cream, butter, sweetened condensed milk, and other dairy products are also occasionally affected. Visible growth, discoloration, structure disintegration, and off-flavors are the common quality defects. Because some mold species grow at 1–5 °C and tolerate low aw (down to 0.80) and belong to low oxygen tension, they may compete well on or in stored dairy products. Some molds are successful in resisting preservatives (e.g., sorbate). Representative species most often belong to the genus Penicillium; however, Cladosporium, Phoma, Aspergillus, Cephalosporium, Geotrichum, Mucor, Rhizobium, Alternaria, and other species also occur.
MARGARINE AND BACTERIAL INFECTION. Viability of Salmonella, Escherichia coli O157:H7, and Listeria monocytogenes in butter, yellow fat spreads, and margarine as affected by temperature and physical abuse. Abstract Survival and growth characteristics of Salmonella, Escherichia coli O157:H7, and Listeria monocytogenes in six commercial butter, yellow fat spread, and margarine products that had been subjected to temperature and physical abuse were determined.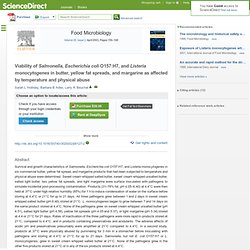 Sweet cream whipped salted butter, sweet cream whipped unsalted butter, salted light butter, two yellow fat spreads, and light margarine were surface inoculated with pathogens to simulate incidental post-processing contamination. Butter. Butter at the Borough Market, London Commonly made from cows' milk, butter can also be manufactured from the milk of other mammals, including sheep, goats, buffalo, and yaks.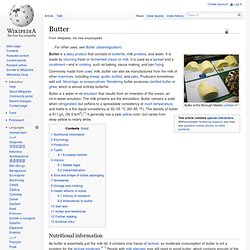 Producers sometimes add salt, flavorings, or preservatives. Rendering butter produces clarified butter or ghee, which is almost entirely butterfat. Butter is a water-in-oil emulsion that results from an inversion of the cream, an oil-in-water emulsion. The milk proteins are the emulsifiers.
---