Conseils_de_vie
The Ten Things To Do When Your Life Falls Apart [book] (Daphne Rose Kingma) The Ten Things To Do When Your Life Falls Apart [book]Daphne Rose Kingma Known primarily for books on relationships (Coming Apart), Kingma's latest is a lifeline for those in the isolating depths of personal tragedy.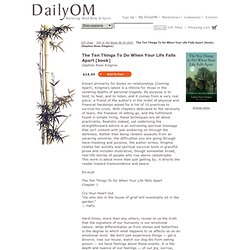 Its purpose is to hold, to heal, and to listen, and it comes from a very real place: a friend of the author's in the midst of physical and financial hardships asked for a list of 10 practices to survive his crisis. With chapters dedicated to the necessity of tears, the freedom of letting go, and the fulfillment found in simple living, these techniques are all about practicality. Realistic indeed, yet underlying the straightforward advice is an enlivening spiritual message that isn't content with just soldiering on through the darkness. Overcome Insurmountable Obstacles Mind Map. Download Using Map Free Maps If you can find a path with no obstacles, it probably doesn't lead anywhere. — Frank A.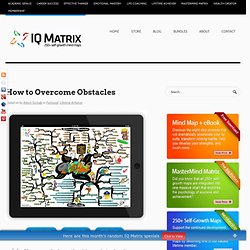 Clark The Landmines Standing Between You and Your Goal. 11 signes infaillibles que votre agence de publicit n'y connat rien en rfrencement de sites web. 11 signes infaillibles que votre agence de publicité n'y connaît rien en référencement de sites web. 5.00/5 (100.00%) 1 vote De nos jours, c'est bien connu, tout le monde (et mon beauf) est un expert en référencement.
Pour le vérifier, nous commençons notre tournée des agences avec les agences de publicité. 21 Rules of Engagement in Social Media. InShare28 What follows is a modified excerpt from Engage!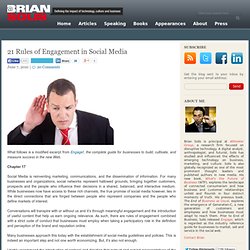 , the complete guide for businesses to build, cultivate, and measure success in the new Web. Chapter 17. Le diaporama des 12 Choix du Lundi matin. Olivier Richard, un blogueur que l'on retrouve sur simpleside, s'est inspiré des 12 notes que j'ai écrites sur ce sujet pour réaliser, avec talent, un diaporama tout à fait étonnant.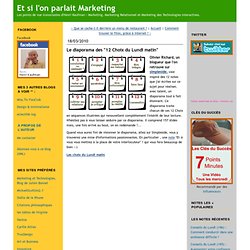 Ce diaporama traite chacun de ces 12 Choix en séquences illustrées qui renouvellent complètement l'intérêt de leur lecture. N'hésitez pas à vous laisser séduire par ce diaporama. Il comprend 157 slides mais, une fois arrivé au bout, on en redemande !... Quand vous aurez fini de visionner le diaporama, allez sur Simpleside, vous y trouverez une mine d'informations passionnantes. Gandhi's Top 10 Fundamentals for Changing the World.
---